African All Stars
Ex-Liverpool star Phil Thompson picks Salah, Mane & Firmino over Paris Saint-Germain superstar trio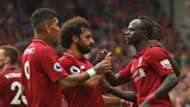 Liverpool open their 2018-19 Uefa Champions League campaign with a cracker against Paris Saint-Germain at Anfield on Tuesday evening, and the clash sets two of the world's deadliest attacking triumvirate up against each other.
Mohamed Salah, Sadio Mane and Roberto Firmino were crucial to the Reds' glorious, unprecedented run to the final of the competition last season, scoring a combined 30 goals [a record-breaking 10 apiece] - 91 in all competitions -  while PSG's trio of Neymar, Kylian Mbappe and Edinson Cavani bagged 89 goals.
This season, the Reds forward have netted eight while their rivals are three goals ahead, and former Anfield star Phil Thompson believes 'honesty, work-rate and the way they go about their jobs' places Jurgen Klopp's attacking cast above Thomas Tuchel's.
"On both of their days, you would possibly look at PSG's [front three], how good they have been and the more experience they have got at the higher level - I'm talking about Neymar for Brazil, Mbappe as a youngster and Cavani has done it for many years," Thompson told Sky Sports.
"[But] I think a lot of people, me included, would have our [Liverpool's] three any day of the week. You look at them for honesty, work-rate and the way they go about their jobs.
"I have always admired Cavani, but you look at the build-up play of Firmino, which is absolutely astonishing, and he, more than Mane and Salah, ran Spurs ragged.
"They have been very comparable and I would slightly have to go with ours.
"With Neymar being the Brazilians' best player, go-to man, world star and Mbappe is the new world star, while Cavani, a lot of people would have him in their team because he is more of a team player than the other two, but not as skilful."