Chelsea
Ex-Chelsea star Joe Cole: I've given up meat to win one last trophy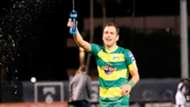 Skill, guile and an eye for goal; Joe Cole's exciting style of play and humble persona led him to be one of the few England players that was loved by most despite the colour of his club shirt.
However, in 2009 Cole suffered a pivotal injury in his career after tearing a cruciate ligament in a 4-1 win against Southend. The England star, with 56 caps and eight major honours, struggled to recover and eventually ended up on loan at League One side Coventry City.
Cole is now 36 years old and he is once again able to turn out consistently for one of U.S. soccer's oldest clubs, Tampa Bay Rowdies. The son of a market trader from east London has given up meat and sees himself as a pescatarian, which is the latest sacrifice he has made to continue doing what he loves most in his adopted Florida home.
"I do yoga. I do that but real relaxing yoga and nothing too strenuous as there's thousands of different types. My wife does it as well. I would say that I am more or less a pescatarian now. I don't eat meat. I try to cut down on fish and just have it once or twice around games, apart from that I am a vegetarian," Cole told Goal.
"I eat good quality food and I have good quality rest. That's the main thing. I don't do anything like ice baths or anything like that. A lot of people seem to like it but I just have good quality food and rest.
"You make a lot of sacrifices to be a footballer but it is more than worth it. A lot of people find it strange [to give up meat] but it is working because I am still here, I am still working and I am still running so [I am happy with it].
"So many different ways, what has really helped me is training less actually but with more quality. As much as you get all these recovery protocols and little things you are supposed to be doing, but the most important thing is listening to your body. When I am tired, the manager understands.
"On most days anyway, as sometimes you have to push through it. Particularly when we are close to games, the Tampa Bay Rowdies have been good with me and allowing me to listen to my body and train only when needed. 
"It was always going to be on how I feel. I feel great and I love playing football still so I thought I would keep going. I am still affecting the games in a positive way. I am still enjoying myself so it was an easy decision in the end. The Rowdies were happy with me. We moved on, we will do another year and then we will assess it at the end of the year.
"It is one of them things, everyone around you wants to plan a year in advance, eight months in advance but being a footballer, in particular, it is a week by week situation. You just see how you feel. I think 'yes I feel good' and try something. Then come November time I will sit down with my family and see what I am doing.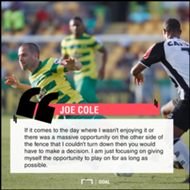 "If it comes to the day where I wasn't enjoying it or there was a massive opportunity on the other side of the fence that I couldn't turn down then you would have to make a decision. I am just focusing on giving myself the opportunity to play on for as long as I possibly can."
Cole's Rowdies sit second in the Eastern Conference standings as they bid to make the play offs once again, with the ultimate goal a first-ever United Soccer League title.
Meanwhile, Cole has half an eye on his post-playing career and is taking his coaching badges at IMG Academy, close to where he plays. Chelsea would be open to offering Cole a role in coaching, as they would for all their legendary players, but the West Ham academy graduate remains focused on winning one last trophy.
"Yes, we want to win the league. I think that would be a great way to finish my career, with some silverware," Cole added. "I feel like we have got a chance, we have definitely got a chance of doing it and that would be a great way to say thank you to the people of Tampa and everything. That's not to say this is the end. We will see how things go at the end of the year."