Manchester City
Elano: The way Guardiola gets Man City to play is amazing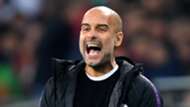 Former Manchester City favourite Elano has been blown away by the style of play Pep Guardiola has implemented at the club.
Guardiola's team currently sit top of the Premier League table and are looking to retain their crown after attaining a record-breaking 100 points last season.
The Spaniard has enjoyed success wherever he has gone during his coaching career, winning titles in Spain with Barcelona, in Germany with Bayern Munich and now in England with City.
The Brazilian complimented the manager on the synchronisation of his team and how their passing play brings results.
"I love football, I am passionate about the tactical side, about the way that Pep gets his teams to play, it is an amazing achievement," he told the club's official website.
Elano believes that the intricacies of Guardiola's system are something only former professional footballers can truly appreciate.
He added: "You're looking for movement all the time, you see how that movement is synchronised, you see that every player knows what to do and the ball arrives perfectly and that's something you don't see without playing."
One player Elano particularly enjoys watching is former Shakhtar Donetsk team-mate Fernandinho.
"I played with Fernandinho at Shakhtar and I always said he was a player for Europe, he fits the modern game, strong, dynamic and he can pass and score."
Despite never winning a trophy during his time at the Etihad, Elano is remembered fondly by City fans for his flair and ability which he brought to the team at a time when they were trying to become a Premier League force.
The 37-year-old, who played for the club between 2007 and 2009, believes the fans deserve the success that City have had in recent years, saying: "City are world class now and the fans deserve it as they are very special.
"I came at a transitional phase but we made the fans happy and believed we could win titles like the Premier League.
"I was happy to play my part and to be here was a joy."