Lionel Messi
El Shaarawy: Messi can make something happen every time he gets the ball
Lionel Messi is capable of making something happen every time he touches the ball, says Roma's Stephen El Shaarawy ahead of a Champions League quarter-final clash with Barcelona.
La Liga and Serie A heavyweights are set to lock horns on Wednesday in the first leg of their last-eight encounter.
Camp Nou will be playing host to that contest, with the Catalan locals looking to a talismanic presence to inspire them to another continental triumph.
Roma forward El Shaarawy acknowledges that containing Messi will be crucial to his side's plans, with the five-time Ballon d'Or winner capable of conjuring up something out of nothing.
The Italy international told UEFA's official website: "We'll have to be alert in terms of how they knock the ball about, keep possession and the moves that Messi comes up with.
"He's the best player of the lot at the moment, and I'm not just talking about Barca but the whole world.
"We're up against the very best and every time he gets on the ball, he can make something happen. That's why we'll have to try to act accordingly and restrict his influence as much as possible."
El Shaaraway is not the only Roma star to have paid tribute to mercurial Messi ahead of a crunch European clash.
Kostas Manolas is set to form part of a defensive unit that will be hoping to keep the Argentine quiet, but the Greek defender admits that he and his colleagues have their work cut out.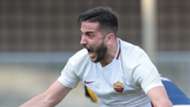 He told Il Giornale: "[Pep] Guardiola is right when he says there's no way to stop him [Messi].
"Even if you could fix that somehow and maybe block him off, there are 10 others that can hurt you. Of course, Barcelona are still something else without Messi. We'll have to do our best."
While aware of how important Messi could be in the tie, Roma remain upbeat when it comes to their chances of securing a notable scalp over two legs.
El Shaarawy added: "We know that it'll be very tough to play against Barcelona at the Camp Nou but we have nothing to lose.
"We have to try to show our spirit, work hard and capitalise on any chances we get.
"We have to be mindful that the tie is played over 180 minutes. We'll have to try to get a good result in Barcelona while remembering that there's still the home leg to come."