Manchester City
Ederson reveals the secret behind stopping Aubameyang's penalty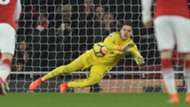 Manchester City goalkeeper Ederson has revealed that doing his homework on Pierre-Emerick Aubameyang was crucial to stopping the Arsenal striker's penalty on Thursday.
With City leading 3-0 after the first half, the keeper was placed in the spotlight after Nicolas Otamendi fouled Henrikh Mkhitaryan in the box, but produced a stop to maintain his side's momentum, diving to his left to push away the kick.
Ederson said that the backroom staff played a role in the moment.
"We study the shooters of the opponents – the team, the goalkeeping coach and the other goalkeepers," he told City's official website.
"It helps us a lot when it comes to make the decision at the right time."
With City now 16 points clear at the summit of the Premier League table, the title is almost within sight, having already secured the Carabao Cup a few days earlier, with Arsenal again their victims.
"We knew how important this game was," he said. "We needed the win.
"We entered the game really focused. We controlled and dominated and got a positive result. We deserved to win.
"It's our third win of the season against Arsenal, which is very good for us."
City now turn their attentions to a clash with fourth-placed Chelsea on Sunday.