I-League
East Bengal coach Khalid Jamil sent out of Mohun Bagan - Churchill match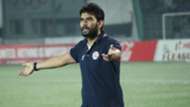 East Bengal coach Khalid Jamil found himself mired in controversy once again, as he was not allowed to stay at the Barasat Stadium to watch Mohun Bagan - Churchill Brothers, having failed to produce a ticket.
Jamil, who had overseen the Red and Gold's practice session at the club ground this morning, travelled to Barasat to watch Churchill, whom his team will be facing in the next match.
The coach, quite weirdly, tried to make his way into the match commissioner's room, but the staff at the ground made it clear that would not be possible.
He then failed to produce any ticket for the match and was denied entry to the gallery by the groudsmen.
Meanwhile, senior East Bengal official Debabrata Sarkar called up Mohun Bagan's Debasish Dutta to inform him about the situation. Dutta assured that he would arrange a VIP ticket for the former India international to watch the contest.
However by that time, Jamil had left the stadium. He didn't return to watch his next opponents but had by then given birth to another controversy - something that has become a weekly affair for him in Kolkata.
"Someone, who is coaching a big name like East Bengal, should be more responsible," Dutta later remarked.