World Cup
Dosu Joseph faults Gernot Rohr's game management in Nigeria's loss to Argentina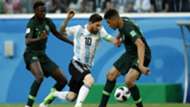 Dosu Joseph has faulted coach Gernot Rohr's game management in Nigeria's 2-1 narrow loss to Argentina in their final Group D fixture of the 2018 Fifa World Cup on Tuesday evening.
The West Africans needed only a point to make it to the round of 16 of the tournament but failed to take their chances despite coming from behind to level proceedings through Victor Moses after earlier going down to Lionel Messi's effort.
However, with four minutes remaining in regular time, Marcos Rojo notched the match-winning goal and the former Nigeria goalkeeper believes Gernot Rohr should have introduced defensive midfielder John Ogu to fortify the team against the advances of Lionel Messi and Co.
"We were holding Argentina for 80 minutes or so, I think what the coach needed to do is to bring in [John] Ogu and defend the draw but we kept attacking as if we needed a win badly," Joseph told Goal.
"I think the coach should have done better in this game that is my personal opinion. If the NFF thinks he has done well they can retain him because I didn't employ him.
"However, overall the players played their heart out just, unfortunately, we couldn't move forward, it is painful though.
"They did well you can't take anything away from them. They made Nigerian proud they played very well."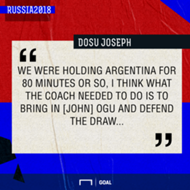 On the way forward, Joseph wants the Nigeria Football Federation to improve the domestic leagues and ensure a mixture of the home-based and foreign-based players in order to make the team better.
"All the time we keep on saying going forward, first of all, let's make the league better, if our league is okay I think the national team will be okay too," he continued.
"The league needs to be structured very well so that our national team can be better than what it is right now.
"We got talent in the league, if we mix the home-based players with the professionals abroad then it will be fine. We can't be going back to the drawing board all the time, I think things need to be done."