Kaizer Chiefs
Disappointing Kaizer Chiefs stint has taken its toll, admits Siphelele Mthembu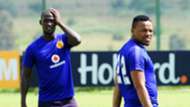 Recently there has been several reports indicating that Free State Stars attacker Siphelele Mthembu could be let go despite only signing for the Ea Lla Koto at the beginning of the season, but coach Luc Eymael has since poured cold water over those reports.
Nonetheless, after sustaining a torrid stint at Kaizer Chiefs where he was finally released, Mthembu says he isn't too concerned about his future in Bethlehem even though he is yet to find consistent goal scoring form.
"I am not really scared of life," Mthembu told Sowetan.
"Even if anything happens it would not worry me, and I don't want people to feel pity for me. It is only God who can say 'Now, my son, it is enough'," he explained.
"So far, what I am concerned about is hard work, not what will happen next. I am grateful for the opportunity Free State Stars gave me and I am aware that I must repay their faith by scoring goals."
So far, Mthembu has only found the back of the net on two occasions both coming from the penalty spot.
"Scoring penalties builds my confidence, but what builds it more is when we win as a team," he said.
However, Mthembu admits that his disappointing spell at Kaizer Chiefs is still having an effect as he is struggling to gain full fitness.
"When you have not played for a while, the body takes time to adjust again. I know I still have to dig deeper to return to full fitness," he admits.
But the 30-year-old remains positive and believes he can thrive at Stars.
"Bethlehem is a good environment for me as a spiritual guy," he concluded.