Crystal Palace
De Boer slams 'ridiculous' Crystal Palace for returning to 'kick and rush' with Hodgson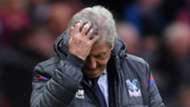 Ronald de Boer has slammed Crystal Palace for unfairly sacking his brother Frank de Boer and branded the club's style of football under Roy Hodgson as 'kick and rush'.
The former Ajax and Inter coach was hired to replace Sam Allardyce in June, but lasted just 77 days in the job after losing his first four Premier League games of the season without scoring.
De Boer had been appointed with the intention of moving Palace away from the direct football employed under Allardyce to a continental style of play.
However, the club quickly abandoned this new approach by replacing De Boer with the more conservative Roy Hodgson.
"As a brother and if I am objective, I think it is true that he was unfairly treated," Ronald De Boer told Goal at the ASPIRE4SPORT Congress at Stamford Bridge.
"If you saw his last games, the level went up. They understood each other better.
"They wanted to change from 'kick and rush' to a passing game. If you hire my brother you know you are going to have a different type of football and it takes time.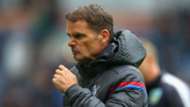 "If you want to go from A to Z, it doesn't happen overnight. It goes up and down until you reach your goal. The Palace owners should have known this. You can't get results straight away. It takes time.
"Against Burnley was probably their best game. They missed so many chances and gave a goal away. And then at the moment you think we are going in the direction we want to go, he is sacked. 77 days? What is this? It is ridiculous."
Crystal Palace's fortunes have failed to improve since De Boer's sacking, with Hodgson losing all three of his Premier Leagues - conceding 10 goals and scoring none in the process.
The club now find themselves rooted to the bottom of the table ahead of this weekend's visit of Chelsea, having made the worst start to a season in Premier League history.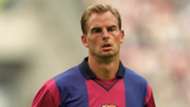 "It is sad for Hodgson also," Ronald, pictured above during his days as a Barcelona player, noted.
"You are going back to where you started. You want to have a change [to passing football] and now you are back to where you began [with direct football]. It is bad management [from the owners]."
Following two brief spells in his last two jobs at Palace and Inter, Frank de Boer is now assessing his options carefully ahead of his next managerial job.
"He is still hungry to coach a club. He is now being really careful whether the next club fits his profile and if the owner is going to be a stable person," Ronald concluded.