MLS
Davies, Adams headline Goal's MLS Under-21 Best XI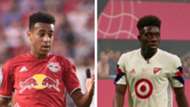 It wasn't too long ago that Major League Soccer teams relied on the MLS draft to search for young talent to boost their rosters. That time seems like a long time ago considering how much has changed in the past few years. 
With MLS academies producing more high-level prospects, and with MLS increasing available funds so teams can target higher-priced talent, the pipeline for young talent into MLS has changed course completely, and the result is a league with the best collection of young talent in its history.
You need only take a look at Goal's selections for its MLS Under-21 Best XI to see where top young talent is coming from. Of the 11 players, six are homegrown players while the other five were acquired from the international market. None of the 11 came into MLS via the draft.
That isn't to say the MLS draft isn't still producing useful players, but as the league spends more money on the foreign market, and produces better prospects from its academies, draft picks are finding it much tougher to get on the field. The 2018 draft class has found this out the hard way, with Orlando City's Chris Mueller the only drafted rookie who could be considered a regular starter this year, with only three other draft rookies (Montreal's Ken Krolicki, Chicago's Diego Campos and New England's Brandon Bye) having cracked the 1,000 minutes mark. There are also several promising long-term prospects in the 2018 class, such as LAFC's Joao Moutinho, Chicago's Mo Adams, Minnesota United's Mason Toye and Seattle's Alex Roldan, but as a group, the 2018 draft class hasn't had nearly the impact that comparable groups of homegrown signings and international signings have had.
Vancouver Whitecaps speedster Alphonso Davies and New York Red Bulls midfielder Tyler Adams have set the bar for young standouts in MLS, and they headline Goal's selections for the MLS Under-21 Best XI, consisting of players who were 21 years old or younger when 2018 began. Here are all 11 selections, along with a look at some of the younger prospects also ready to move into this group in the near future:
---
GOALKEEPER: JT Marcinkowski, San Jose Earthquakes
---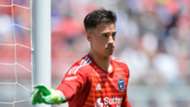 Goalkeepers rarely step into starting roles in MLS before the age of 22 or 23, though some of the league's best and most exciting netminders are on the younger end of the spectrum. JT Marcinkowski is the youngest goalkeeper in MLS to have earned multiple starts this year, and while he gets his place on this team by default, the 21-year-old Earthquakes homegrown player did show signs of the promise that made him a standout at Georgetown for three seasons in college.
In terms of other goalkeeper prospects in the MLS pipeline, LA Galaxy's Justin Vom Steeg is a player to remember. He hasn't made an appearance with the first team this season, but has earned playing time for the Galaxy's USL affiliate, and was a top college goalkeeper before heading to Germany for a brief stint with Fortuna Dusseldorf.
---
RIGHT BACK: Reggie Cannon, FC Dallas
---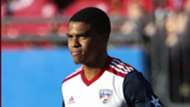 After playing just one minute as a rookie in 2017, Cannon wasn't seen as someone who would break out this year when the season began, but Cannon has been a revelation in the FC Dallas starting lineup, making the right back position his own and playing well enough to earn a U.S. national team call-up. The 20-year-old FC Dallas homegrown player has been one of the best fullbacks in the league this season, and has made a case for Best XI consideration.
Cannon had some stiff competition for this spot on the Under-21 Best XI, edging out Real Salt Lake's Brooks Lennon, who has made a smooth transition from right winger to right back in 2018. Lennon is more of an attacking threat than Cannon, but is still working on the defensive aspects of his game, and if he continues to develop, Lennon could be joining Cannon in earning a national team call-up soon.
---
CENTER BACK: Auston Trusty, Philadelphia Union
---
Another player who came into the season without having started a single MLS match, Trusty has started all 31 matches for the Philadelphia Union, and is a key reason behind the Union's surprising season. The 20-year-old central defender has been a rock in the back, growing in confidence as the season has gone on, maturing into a player who has now begun drawing recognition as a legitimate U.S. national team prospect.
Keep an eye on Atlanta United's Miles Robinson. The second overall pick in the 2017 MLS Draft, Robinson has impressed in his limited minutes for the Five Stripes, and the 21-year-old has shown he can handle the job when needed. He should also be a contender for more minutes in 2019.
---
CENTER BACK: Justen Glad, Real Salt Lake
---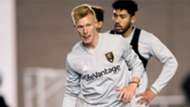 A grizzled veteran at the age of 21, Glad's third season as a starter for RSL has seen him make the transition from youngster to reliable regular. Glad has continued to improve all facets of his game, and his play has been central to RSL's push for a playoff berth. As deep as the U.S. national team player pool is in central defense right now with quality prospects, Glad's name should be in the conversation for a national team look heading into 2019.
Philadelphia's Mark McKenzie hasn't drawn the attention of Trusty, but the former Wake Forest defender has quietly put together a solid rookie season, and is among the league's top five rookies in minutes played.
---
LEFT BACK: Milton Valenzuela, Columbus Crew
---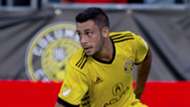 Acquired on loan in January from Argentinian side Newell's Old Boys in a deal reportedly worth $1 million, Valenzuela has shown why the Columbus Crew were willing to make that investment. The Argentine defender has been an outstanding two-way threat at left back for the Crew, and the former Argentina Under-20 player has been one of the team's most consistent players defensively.
Left back has long been a weak position in MLS, but there is a very strong crop of talented young left backs being developed for the future. Atlanta United's George Bello, LAFC's Joao Moutinho, Seattle's Nouhou Tolo and the Real Salt Lake tandem of Aaron Herrera and Danilo Acosta are all players to remember heading into 2019. Sporting KC's Jaylin Lindsey has shown well at left back also, but the 18-year-old is more a natural right back.
---
DEFENSIVE MIDFIELDER: Tyler Adams, New York Red Bulls
---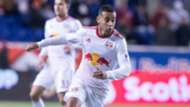 It has been a special 2018 for Adams, who has built on his breakout 2017 with a year that has seen him become a regular starter for the U.S. national team and the midfield anchor for one of the best teams in MLS. Adams tenacity, engine and improving attacking qualities have made him a dynamo for club and country, and it's easy to see why his future seems destined to take him to Europe this winter.
D.C. United's Chris Durkin was eyeing a move to Europe this winter, with playing time far from assured with his MLS team. The minutes did come though, and the 18-year-old made the most of them, impressing in a defensive midfield role that players his age can't always handle right away.
---
DEFENSIVE MIDFIELDER: Yangel Herrera, New York City FC
---
Even though he has been sidelined by injury for half the season, Herrera was too good before the injury to leave off this team. The 21-year-old Venezuelan was playing like one of the best defensive midfielders in MLS before being sidelined, and if he can work his way back in time for the playoffs, Herrera could help NYCFC turn around its recent struggles.
Colombian midfielder Eduard Atuesta has settled into a regular starting role for Los Angeles FC, and the 21-year-old defensive midfielder has helped provide some grit to a midfield that needed it, while also helping LAFC cope with the loss of Mark Anthony-Kaye, who had emerged as a key figure in Bob Bradley's midfield.
---
ATTACKING MIDFIELDER: Ezequiel Barco, Atlanta United
---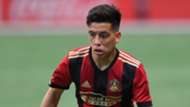 When you arrive in the league with a $15 million price tag, expectations are going to be supremely high, and while he hasn't quite live up to the hype, Barco has played well enough to earn a spot on this list. The 19-year-old Argentine has had to endure some growing pains, including a midseason disciplinary issue that left him sidelined, but Barco has still managed to produce four goals and three assists.
There aren't many youngsters earning regular time in playmaker roles, but there are some very talented prospects in the pipeline who could emerge in 2019, including LA Galaxy teenager Efrain Alvarez and Atlanta United's Andrew Carleton.
---
RIGHT WINGER: Jesus Medina, New York City FC
---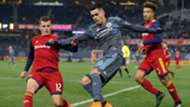 The Paraguayan sensation began the year on a roll, looking worth every bit of the investment NYCFC spent to bring him in as a replacement for England-bound Jack Harrison. Medina has shown himself capable of scoring goals and setting them up, with his six goals and seven assists among some of the better numbers among MLS wingers before being sidelined by injury for a recent stretch of matches.
Latif Blessing has made a smooth transition from Sporting KC to LAFC, and the Ghanaian speedster has quietly established himself as a regular in Bob Bradley's attacking rotation. The Ghanaian-born winger has notched five goals and six assists, numbers only surpassed by Carlos Vela and Diego Rossi on his team.
---
LEFT WINGER: Alphonso Davies, Vancouver Whitecaps
---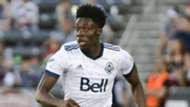 The subject of a record transfer to Bayern Munich that will be completed in January, Davies is widely regarded as the league's most coveted youngster, with his blazing speed and blossoming attacking skills making him a tantalizing threat. He has recorded six goals and 11 assists for the Whitecaps, while also cementing his status as a key figure for the Canadian national team.
NYCFC's Jonathan Lewis has once again shown flashes of being capable of being a special attacking threat, but the 21-year-old has struggled for minutes. New York Red Bulls youngster Derrick Etienne Jr. has enjoyed a solid season, though the Haitian international has also found consistent minutes difficult to manage on a stacked Red Bulls side.
---
STRIKER: Diego Rossi, Los Angeles FC
---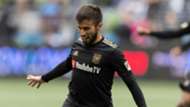 The 20-year-old Uruguayan forward has been everything Bob Bradley could have wanted in one of his first LAFC signings. Rossi's speed, on-the-ball ability and finishing have made him a versatile threat who has thrived in LAFC's attacking system. He has 10 goals and eight assists, numbers that don't tell the whole story of what he has meant to the expansion team.
Portland Timbers striker Jeremy Ebobisse came into the league with some high expectations as a high draft pick and member of the U.S. Under-20 national team, and while he hasn't broken through quite yet, he has shown glimpses of the talent that has made him a highly-regarded prospect.
---
GOAL'S MLS UNDER-21 BEST XI
---