Liga MX
Cruzazulear: How La Maquina's near-misses became a Mexican slang word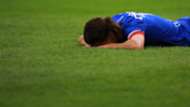 Every country and every league has their lovable losers. The teams that are almost there, that nearly miss, that have a huge following now accustomed to getting hopes up only for things to end in disappointment.
Only Mexico has "Cruzazulear." To Cruz Azul.
Sometimes it gets used to mean "messing up," but that's not quite the true essence of the word. The real definition requires things to have been going well and then go horribly wrong.  
Oh sure, the stodgy Real Academia Espanola might not recognize it as a real word, saying in 2016 that it is "not studying the inclusion of this word." But it exists. Reliable resource SpanishDict has it listed as "to lose spectacularly at the last second" or "to choke," both definitions which pass muster. The Latin American version of Larousse once tweeted a number of definitions including, "to lose with a surprising gaffe." 
Cruz Azul fans may protest by pointing to their eight Liga MX titles, but the 10 runner-up finishes speak more loudly. So too does the fact that this once-great club hasn't lifted a league trophy since 1997 and that it also fell short of the Copa Libertadores once in a final and in three Concacaf Champions League finals. Some Cruz Azul fans have given up protesting the use of the term. They've experienced the frustrations.
How did this word enter the popular lexicon? Thanks to the memes, of course! This week's Liga MX final between Cruz Azul and America could produce an avalanche of internet content the likes of which we have never seen. This week we had Cruz Azul fans sweating while the 90th minute approached like Jordan Peele in his sketch and prayers to the Lord that "they don't Cruzazulear again." If that happens, the jabs will be brutal.
But it doesn't need to be a Cruz Azul match for the internet to poke fun at Cruz Azul. Someone wearing a La Maquina shirt at a Mexico national team game? That's why El Tri lost! Dodgers drop the World Series? Wait, was there someone in a Cruz Azul top there? Of course there was.
Nothing did more for the word's widespread use and the internet bullying of Cruz Azul fans than the last time La Maquina and America met in the final. If you've forgotten the 2013 Clausura final (which you haven't if you're a fan of either team), Cruz Azul won the first leg 1-0 and took its lead into the Estadio Azteca. Teofilo Gutierrez found the back of the net in the 20th minute of the second leg to extend the aggregate lead to 2-0.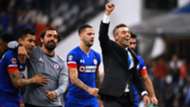 Going into the last five minutes of the game, that was Cruz Azul's advantage. They had it in the bag - except they were about to Cruzazulear in the most spectacular fashion. In the 89th minute, America sent in a corner kick. It got cleared to the back of the box but put back in where center back Aquivaldo Mosquera headed it in the back of the net. Three minutes into stoppage time, America had another corner kick. Goalkeeper Moises Munoz came up from the back and used a diving header to make contact with the corner. It took a deflection and went in.
Miguel Herrera went nuts, Munoz fell to his knees to celebrate and the Estadio Azteca erupted in cheers. America held on in extra time and won the penalty shootout, 4-2 to lift the trophy and extend Cruz Azul's drought. With internet culture fully in motion in 2013, the memes started flowing. Cruz Azul's name was now a verb.
With America on a hot streak, this year is setting up for a similar scene. Yet Cruz Azul fans still believe things could be different. For one, La Maquina were the best team in the regular season, locking down the Superlider spot and getting through the playoffs with wins over Queretaro and Monterrey. Manager Pedro Caixinha has overseen the team with by far the best defense in Mexico, allowing just 13 goals in a 17-match regular season and only one goal in each series since then. The attack also can come alive, though not like America which put a 6-1 thumping on Pumas in the second leg of their semifinal to get to this point.
This year could be a good year for Cruz Azul fans, but to vanquish their demons they'll have to vanquish the crosstown rival that kicked off this whole thing, the one that took them from simply lovable losers to vocabulary word.
Even the RAE will admit the meaning of words can change. We've literally modified the definition of literally. Rangers fans think Pedro Caixinha is bad as a manager. Cruz Azul fans think he's a bad, bad man.
Now this Cruz Azul is setting out to be the one that changes what it means to be Cruz Azul or returns it to its former definition: A grande that has won multiple titles and will do so again.