Videos
Coutinho, Messi, Mina and the Goal Pressure Index Team of the Week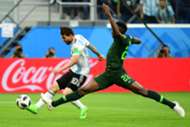 The group stage of the 2018 World Cup is now over, much to the disappointment of millions of football fans around the globe.
The final round of matches were packed full of iconic moments, spellbinding goals and joyous celebrations, with a number of tantalising ties on the horizon as we enter the knockout stages.
Some players stepped up to the mark to help drag their respective countries through to the last 16, while others - Germany - decided it would be high time to impersonate a shrinking violet on the grandest stage of all.
Yerry Mina, Colombia's colossal defender, kept up his knack of scoring important headers with a powerful effort against Senegal on Thursday. The goal sent his country through to the last 16, where they will meet England, and it also earned him a score of 83/100 on the Goal Pressure Index, presented by Sure and powered by Opta.
Mina is joined in Sure's Team of the Round by his Barcelona teammate Lionel Messi, who scored a phenomenal goal for Argentina as they snuck their way into the knockout rounds with a 2-1 win over Argentina. Messi's finish was admired by millions around the world and also helped him earn a score of 90/100, a stark contrast to his performances from previous matches.
Keeping up with the Barcelona theme, Philippe Coutinho kept up his fine form with a strong performance for Brazil against Serbia. The former Liverpool playmaker produced a wonderful pass to set up Paulinho for the opening goal and kept the Selecao in control with a domineering display, which earned him a score of 88/100.
Watch the video above to discover the full team. 
The Goal Pressure Index is presented by Sure, Official Partner of Chelsea FC, Everton FC and Southampton FC. Join the conversation on Twitter @Sure.