Primera División
Could old flame Bellerin be the answer at Barcelona following Dani Alves break up?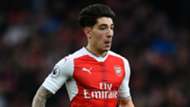 ---
COMMENT
---
In June 2016, after eight years together, Barcelona and Dani Alves took the decision to go their separate ways.
Cracks in the relationship appeared to have been resolved by a renewing of vows in the summer of 2015, but just 12 months later the Brazilian defender was packing his bags and starting afresh with the Old Lady in Turin.
Rebound fancies in Catalonia have failed to ignite the same spark, with Camp Nou chiefs continuing to flick through the options on the footballing equivalent of Tinder.
Bellerin: Barca interest is special
Among those to have caught the eye is an old flame, a teenage crush that left for foreign shores before romance could fully blossom.
Hector Bellerin may have gone in 2011, but he has never been forgotten.
He has been playing hard to get since re-emerging on the Barca radar, telling the Evening Standard in November 2016: "If I wanted to play there I would have stayed there. I was very happy when Arsenal showed interest in me and I decided to come here. I'm not looking back."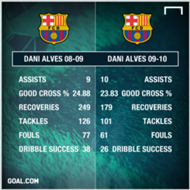 Those comments came on the back of the signing of a new contract in England, with a long-term commitment made to those who fully embraced him at Emirates Stadium.
Bellerin has since told Mundo Deportivo: "When I left Barca my idea was not to return, because my exit was a little complicated. Just as other players who leave saying they will return, I went to live an adventure in England, to try to be a footballer and not return.
"I left Barcelona because I felt the club did not have faith in me, I didn't feel valued. I was disillusioned."
Wenger dismisses Bellerin exit talk
Even a broken heart can be mended in time, though, and in the same interview with a Spanish media outlet, the Catalan admitted: "It's nice there are a lot of big clubs that are interested in me, but if one of those is Barcelona, that's special. I don't forget I grew up in that home and I will never forget my stay at Barcelona."
This is clearly no Cesc Fabregas saga, with Bellerin's fellow Spaniard having made no secret of his admiration for those he left behind before being welcomed back into a familiar embrace.
This is complicated.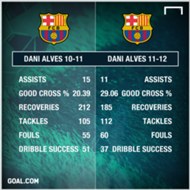 Bellerin, though, appears to be thawing and may be willing to forgive and forget – and if he is prepared to do that, then will Barca be in a position to fill their Dani Alves-shaped void?
Comparisons between the two are easy enough to make, with there plenty of adventure in their respective games that was born out of starting life on the wing – with Alves operating on the flanks as a 10-year-old before a lack of goals saw him dropped back, while Bellerin saw a similar conversion made after linking up with Arsenal.
Old habits die hard in situations such as this, with both having had to work on curbing their attacking instincts and focus on improving in an area in which their position demands the most from them – actually being able to defend.
Barca want Bellerin and Verratti
Dani Alves, by the time he joined Barca in 2008, was pretty much the finished article in that sense, with close to 250 appearances at Sevilla offering a solid platform on which to take a step up.
Bellerin has only passed the 100-game mark at club level this season, at 22 years of age, and has openly admitted in the past that he remains a work in progress – with the presence of Gunners legend Steve Bould on Arsene Wenger's coaching staff having helped to smooth a few rough edges.
He said: "When I first came to Arsenal, I didn't know how to defend.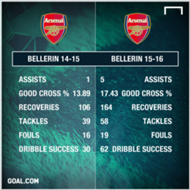 "If there was a person who I had to identify as helping me a lot, that would have to be Bould. I was a winger but from the Under-18s up, I remember him just showing me the basics. Even then, I remember him sometimes holding his head like, 'What is Hector doing?' He's been one of the key people in my career. He's one of the reasons I'm here now."
Bellerin, though, still has plenty of work to do if he is to be held in the same regard as the likes of Dani Alves – be that at Arsenal, Barcelona or wherever.
Any role for him at Camp Nou would not be too dissimilar to that he has already taken on with Arsenal, with the expectation that marauding full-backs will offer natural width in the absence of out-and-out wingers.
Bellerin: Arsenal behind Wenger
Dani Alves was an expert in that field – a glance at the graphics within this article highlighting his most productive seasons at Barca prove as much - while his tenacious attitude allowed him to be a destructive figure going in the opposite direction.
He could look ungainly in the art of defending at times – as shown by the number of fouls he concedes both then and now – but he was not afraid to put himself about and his other defensive figures (recoveries, tackles) help to highlight his value to a cause that often saw Barca dominate opponents and dictate play on their own terms.
Arsenal have often been referred to as Barca-lite under Wenger, with the same philosophies regarding ball retention and patient build-up play embraced in north London as in northern Spain.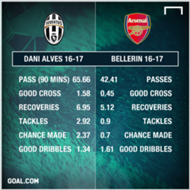 Bellerin, though, does not offer as much as Dani Alves did at Barca, and is still doing at the age of 33 with Italian champions Juventus.
The only area in which he can claim to hold the upper-hand is in the dribbling department, which does bode well given his current surroundings and potential future home, but he needs to provide more of an end product in both halves of the field.
Barca will be aware of that, with director Robert Fernandez recently referring to Bellerin as "young and very interesting" in an interview with Cadena Ser, with their interest based as much on historical roots and potential as current ability.
Barca refuse to rule out Bellerin
They will also know that any deal will not come cheap, with fresh terms in England and uncertainty surrounding Wenger's future at Arsenal conspiring to further complicate matters, but acquiring Dani Alves came at some considerable cost and what Barcelona want, they tend to get.
For now the entire situation is based on little more than speculation – playground gossip, a fluttering of eyelashes across continental classrooms and the passing of love letters under the desk.
Barca, though, do need a right-back and Bellerin may well be the next sporting marriage they enter into.