Antonio Conte
Conte plays down Chelsea exit talk: I'm enjoying it more than last year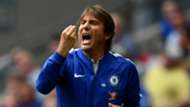 Antonio Conte has moved to play down recent reports that he is unhappy at Chelsea by revealing details of his personal life in London, while he also insisted that his working relationship with the board is amicable. 
There have been some reports that Conte and the club's transfer chiefs have had a rift over the players that have been brought into the side this summer
However, Conte has remained in charge with mixed fortunes, losing at home to Burnley before beating Tottenham at Wembley last weekend.
Blues 16/5 to draw with Everton
The Blues boss offered a rare insight into his personal life as his insisted he is happier than ever as he adjusts to life in England. 
"No. Honestly, I'm very calm," Conte responded when asked why he seems grumpier than normal. "I'm relaxed much better than last season. Yeah, much better. Because you learn. You learn also to work for the new club. Last season was my first time. Now, after a year of experience, I learned a lot from the past.
"For this reason, I think I am more relaxed and am enjoying better the situation than last season. That's my impression, anyway. Honestly. Yes, yes. I am still having language lessons. Two hours, three days a week. After one season you start to learn a lot of situations.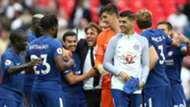 "You start to live with a lot of situations. Last season was totally new for me, for myself. It's normal [to have tensions], when you are at a great team, this is normal. You see it also when you stay in Italy, at a club like Juventus or Inter Milan, it's the same.
"Yeah, when I won the league. That was the best moment for me, to let myself relax. I enjoyed that moment a lot. But now, I repeat, this is the past. Now it's important to try and write another story with Chelsea.
"The past stays there. It's beautiful if you see the past, but the most important things now are the present and to build a really good future for the club."
Conte faced fresh doubts over his future this week over as reports emerged from Germany that former Borussia Dortmund manager Thomas Tuchel was being lined up to replace the 47-year-old. 
Chelsea quickly moved to deny it and Goal understands that no contact has been made between the Blues and anyone associated with Tuchel. Conte has also moved his family to London this season but admitted that he doesn't know where his wife Elisabetta has put his Premier League medal.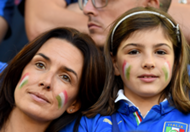 He went on to hammer home the importance of Chelsea's win last weekend against Tottenham at Wembley Stadium.
"For sure, this was a big win. A big win," He added. "Usually when you have this type of win, above all in a difficult situation, as don't forget we faced Tottenham 'in emergency'. I think this type of win helps you to improve your confidence and makes you want to work harder than before.
"The players, but every single person needed to win. You work. You work for the win. You work every day very hard for the win. Not to lose or draw."