Mamelodi Sundowns
COMMENT: Can Sundowns cope with the congested fixture schedule?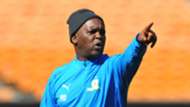 After Mamelodi Sundowns bowed out of the Nedbank Cup, Pitso Mosimane consistently looked on the brighter side, suggesting that it might just work in their favour.
The 54-year-old though, could not be more right although the Tshwane giants' supporters were disappointed. This is perhaps what was needed for them to defend their Premier Soccer League (PSL) title and challenge for continental honours.
Sundowns have put themselves in an authoritative position in the Group A log of the Champions League having won two of their three games. This set Sundowns up for progress, but the journey is not yet done as there are trips to Casablanca and Abidjan still to come.
This is where not having the additional four games will certainly help Downs in their quest, because the reality is that even for a squad with so much depth and quality such as Sundowns, competing on all fronts remains a challenge.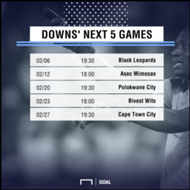 Also, just a quick glance at Sundowns' next six fixtures, it is apparent that success in the league could rest on what they are able to achieve in the next few weeks.
Aside from Friday night's win over Mimosas, Sundowns have undoubtedly shown signs of fatigue, and this should worry Mosimane.
But with some breathing space, Sundowns might have a slight edge as they head into games against Bidvest Wits and Cape Town City in the coming weeks.
Nonetheless, while fatigue has been something to worry about, their lack of killer instinct upfront would have also added to the burden.
Sundowns really only had Jeremy Brockie as their only out-and-out striker, and the weight of expectations has shown.
So, while many might see the introduction of Emiliano Tade as the end of Brockie, it perhaps offers both players a fair chance to be utilised sparingly.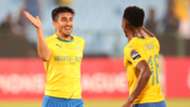 This will benefit Sundowns and with a clash against Black Leopards in midweek, having strong competition will do a lot to keep the side motivated, especially as they play catch up in the league.
As Mosimane has previously stated that games in hand are not necessarily points in the bag, this is something that will be at the back of their minds.
But with only the Champions League and the PSL title to worry about, it will take someone brave to bet against them not picking up maximum points in their games in hand.