Javier Hernández
Chicharito goal extends Mexican forward's Stamford Bridge sub scoring streak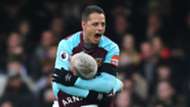 Chelsea fans must be sick of the sight of Javier "Chicharito" Hernandez celebrating by now.
The Mexican forward's 73rd-minute shot kissed off Thibaut Courtois' post and went in to bring West Ham level in a 1-1 draw Sunday. It was far from the first time Chicharito had come on as a sub at Stamford Bridge and caused the home fans heartache.
It's the fourth consecutive time Chicharito has come in as a substitute and scored at Stamford Bridge. In Feb. 2012, Chicharito scored to put the finishing touch on Manchester United's three-goal rally to get a point after going down 3-0 in the first 50 minutes of the contest. Later the same year, in October, Chicharito's 75th minute goal gave the Red Devils the 3-2 victory over the Blues. His late goal in the Jan. 2014 meeting between Man Utd and Chelsea was a simple consolation prize in a 3-1 loss.
Chicharito has scored 16 Premier League goals as a substitute between his stops at Manchester United and West Ham, with four of those coming against Chelsea. He has scored in every game he has entered as a substitute at Stamford Bridge.  Only one player has scored more Premier League goals as a sub against the same team, with Julian Joachim taking advantage of Stoke City five times.
Hernandez's joy in facing Chelsea isn't limited to late-match situations, though. He found the back of the net in the first minute against Chelsea in a 2011 league match at Old Trafford.
This season, Chicharito has eight league goals over 1,475 minutes with the Hammers. Marko Arnautovic leads the team in scoring with nine goals over the course of 1,794 minutes played.
The Mexican forward, who is El Tri's all-time leading scorer, has expressed frustration with inconsistent inclusion in the lineup since David Moyes took over as manager and hinted last month that he'd be open to a move away from London.