Opinion
Catch all the action from FIFA Club World Cup live on StarTimes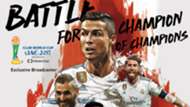 The 2017 FIFA Club World Cup is holding this year in the United Arab Emirates from Dec 6th to 13th and will be aired live on StarTimes channel 254 and 244 and the StarTimes mobile app http://bit.ly/2htdztR
FIFA Club World Cup is an international men's association football competition organised by the Fédération Internationale de Football Association (FIFA), the sport's global governing body. The competition was first contested in 2000 as the FIFA Club World Championship.
The current format of the tournament involves seven teams competing for the title at venues within the host nation over a period of about two weeks; the winners of that year's AFC Champions League (Asia), CAF Champions League (Africa), CONCACAF Champions League (North America), Copa Libertadores (South America), OFC Champions League (Oceania) and UEFA Champions League (Europe), along with the host nation's national champions, participate in a straight knock-out tournament.
The host nation's national champions dispute a play-off against the Oceania champions, from which the winner joins the champions of Asia, Africa and North America at the quarter-finals. The quarter-final winners go on to face the European and South American champions, who enter at the semi-final stage, for a place in the final.