UEFA Champions League
BT Sport secures £1.18bn Champions League deal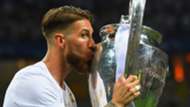 BT Sport has won the right to continue broadcasting the Champions League and Europa League in the United Kingdom, having agreed a £1.18 billion deal.
Premier League Team of the Week
The telecommunications company will spend around £394 million per year on the competition over each of the next three seasons to retain the competition – up from the current deal, which is worth a shade under £300m per year.
As a result, BT has the exclusive rights to screen all continental competition in the UK, having outbid rivals Sky.
From the 2018-19 season, Champions League evenings will change, with the perception being that the competition will only become stronger thanks to four guaranteed representatives from England, Spain, Germany and Italy. Furthermore, kick-off times will be staggered, with matches beginning at 18:00 and 20:00.
John Petter, Consumer CEO at BT, said: "We are delighted to have renewed these rights. The UEFA Champions League and UEFA Europa League are two of the best competitions in the world and we would like to thank UEFA for choosing us as their exclusive broadcast partner in the UK. 
"The UEFA Champions League is due to get even stronger and we are delighted that fans will be able to enjoy two live matches a night for the first time."