Chelsea
Brown eager to make Leeds debut after overcoming injury hell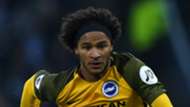 Chelsea loanee Izzy Brown is looking forward to making his Leeds United debut after missing 10 months of action.
Brown has been unavailable since January due to an anterior cruciate ligament injury which he picked up whilst on loan at Brighton.
Last Friday, the 21-year-old stepped onto a pitch for the first time since joining Leeds United when he played in a development squad game against Birmingham City.
After playing 45 minutes, Brown feels he is not far off being available for first-team football with Marcelo Bielsa's Championship side.
"It's happening. I played my first 45 the other day and I've got 90 minutes to play on Monday, that's the plan so far. After the 90 minutes on Monday I should be ready for selection," Brown told the Yorkshire Evening Post
Brown acknowledged there were times when he was struggling to see an end in sight for his injury issues, adding: "I always thought I'd be getting there and then there would be a setback but I can start to see the light at the end of the tunnel now.
"I'm training every day with the boys, doing double sessions and basically part of the team. I've heard before that I'd be back in a month and then it would take longer than it was supposed to so I don't ever really get my hopes up but this time I'm excited because I can see that I'm near the end."
Brown is eager to get back playing competitively, saying that he has rediscovered the hunger to play which he had when he was a child.
"When I put my shin pads on before the game it was the first time I'd put shin pads on in 10 months. The little things you take more notice of and it makes you appreciate playing football more.
"Some days I used to think I was tired but now, every day I want to train and play. I just want to play football. It's like I'm a little kid again."