Transfers
Bloemfontein Celtic refuse to issue new Cape Town City winger Lakay's clearance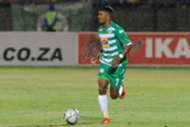 Bloemfontein Celtic have refused to issue Lyle Lakay's clearance following his unveiling as a new Cape Town City player.
Lakay's representatives have stated that the club missed the deadline to exercise the option, but Celtic CEO Khumbulani Khonco has dismissed their claims.
"That's what the reports say. Maybe that's what Lyle told people [that it was late]," Konco told The Sowetan.
Konco also confirmed that they are taking the matter to the Premier Soccer League (PSL)'s dispute resolution chamber (DRC).
"I think this will go to the DRC and we will sort it out there. We were surprised to see him being unveiled as their player. We had an option and we exercised that option," he said.
Lakay also confirmed that the club was late in exercising the option.
"They were supposed to exercise the option by February 2 and they gave me the letter on May 24," Lakay said.
He signed the letter his representative Vasili Barbis instructed him to sign.
"He's my agent and he advised me to do that. So I signed the letter," Lakay said.
City chairman John Comitis says they believed what they were told by the agent and player.
"We were informed by both [the] player and agent that Celtic did not follow due process to exercise [the] option. We await [the] outcome," Comitis said.