Premier League
Berekum Chelsea name Tanasijevic as new coach until 2019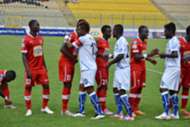 Berekum Chelsea have announced the signing of Serbian manager Svetislav Tanasijevic as the club's new coach in a one-year deal with an option to extend his stay with an additional year.
The 41-year-old replaces Randolph Armah and Solomon Odwo, who guided the club to avoid relegation last season.
"It's true that we've signed Svetislav Tanasijevic as the new coach but we are about to conclude his work permit and other documents," club communication director Isaac Amponsah told Goal.
"We're still putting piece together in our bid to make a better impact next season, as well as produce quality young players and achieve the other target given him. We believe he will be of greater help to our course and wish him all the best," he added.
In a radio interview, Tanasijevic said he plans to play an all-attacking football next season.
"I feel very good being here, good people and good town. I have met the players, seen them train and they are not bad," Tanasijevic told Oyerepa FM.
"We are preparing for the season and hope we will continue with such form in the future. My ambition is to be in the first three on the table because we have young good players. I am ready for the task ahead and I have told them we will attack, attack and attack," he added.
Berekum Chelsea have also brought in seven new players including Solomon Commey Oblitey, Edmund Arko Mensah, Hafiz Ali, Jonah Attuquaye, Benjamin Baidoo, Patrick Owusu and goalkeeper Yusif Moro.