International Champions Cup
Bayern star Alaba: There aren't many top quality full-backs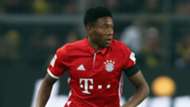 ---
EXCLUSIVE
---
Full-backs are being bought for exorbitant sums in the current transfer window because there are very few quality players in those positions, according to Bayern Munich left-back David Alaba. 
The Austrian's comments come in the wake of Manchester City making French left-back Benjamin Mendy the world's most expensive full-back after securing his services from Monaco for a whopping £52 million. 
What are Bayern's odds to beat Chelsea?
Interestingly, City broke their own record, having signed right-back Kyle Walker last week for a fee of £45m before roping in Danilo from Real Madrid for £26.5m. 
Alaba, who is in Singapore for participating in the International Champions Cup (ICC) pre-season tournament, feels that the demands of the market means teams are forced to shell out big bucks for securing good full-backs. 
"I guess you don't have as many quality full-backs at the moment and maybe five on the right side, three, two or five on the left side, full-backs who play at one level," he told Goal on the sidelines of Adidas Here to Create event at Clifford Square, Singapore. "I guess a very good full-back is not easy to find in the market right now.
"If you want to have a good one, I guess it's expensive." 
However, the highly-rated left-back is not thinking about a big-money elsewhere. "At the moment, I am good at Bayern Munich and I don't think about that," he said when broached on the subject.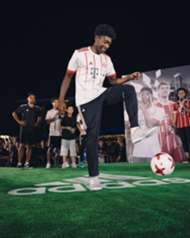 Bayern Munich have brought in a host of new signings including James Rodriguez, Sebastian Rudy and Corentin Tolisso among others this season. Alaba is chuffed about the development and expressed hope that they will help the team kick on. 
Neymar needs to confirm Barca future
"Well, you could see the players getting into the team are doing really well. They bring really great qualities with them. I guess they can help us in future."
The 25-year-old also feels that Carlo Ancelotti is very similar to what former coach Pep Guardiola, who left the German champions last season. "I guess you cannot differentiate between them. 
"They are both world class coaches. Both have a lot of experience and are successful in what they are doing. Like I said, you cannot differentiate." 
Alaba also stated that he is not interested in a move to China, despite the exorbitant wages on offer, but does not think players who do opt for such moves are necessarily greedy. 
"Everybody has to decide for his self, for his life and his for future. You know what I mean. So it is difficult to talk about it as everybody has his own chance to decide for themselves. I am 25 years old now and I don't have to think about it [China] presently," he said.