World Cup
Battle of the Brands - Who will win the World Cup?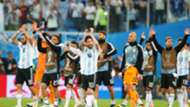 Your votes have been counted and the Quarter finalists are in. 
It's Adidas, it's Nike, it's Hyundai and Kia – the big boys are all still in with a shout as we reach the last eight.
We asked you which brands were making the biggest impression around this year's festival of football and now the time has come to whittle it down to a final four.
And we've got a thrilling quarter-final line-up. But we won't be requiring VAR to make the big decisions for us – it's all down to you!
---
ADIDAS VS HISENSE
---
It's David vs Goliath in our first quarter-final, with global superpower Adidas going up against a newcomer looking to expand its horizons. Adidas have been a World Cup sponsor since 1970, while Chinese company Hisense is looking to crash the party. 
Adidas have returned to the big stage with yet another bout of strong messaging, this time focused around 'Creativity', expanding their reach beyond football. Could it alienate a football-loving audience who don't want to see their sport infiltrated by outside forces?
Hisense, meanwhile, are paying homage to the incredible history of the tournament which is a must for any advertiser, particularly when on your debut.
---
BUDWEISER VS WANDA
---
Our second quarter-final features yet another established giant of the competition taking on a Chinese newcomer as Budweiser hope experience will see them past the challenge of Wanda.
Budweiser have created a future in which drones are delivering beverages directly to those watching the game, whether they be at home, in public or even at the stadium itself. 
Wanda, meanwhile, are highlighting their sponsorship of the World Cup flag bearers, some of whom come from some of the most deprived areas of China. Their subtle, moving commercial features young Wang Bangjian dancing on a Danzhai rooftop.
---
HYUNDAI/ KIA VS COKE
---
Next up is two evenly-matched competitors who have shown their ability to use earworms to great effect this tournament, ensuring that are all left humming their tunes right through until the final.
Hyundai raided the market to make a shrewd signing in Maroon 5, who certainly found the back of the net with their cover of Three Little Birds.
Coke, meanwhile, brought in Jason Derulo to create a signature song, but it hasn't featured heavily in its advertising unlike the unforgettable Waving Flag eight years ago.
---
NIKE VS MCDONALDS
---
Nike are the only non-official sponsor left in our competition and they are up against the formidable McDonalds.
Nike do, of course, sponsor the biggest team at this year's World Cup in Brazil. And once again they have used the Selecao to great effect in one of their World Cup ads. They even bring back the old Ronaldo as they evoked memories of one of the all-time great football adverts.
McDonalds, meanwhile, are using this World Cup to launch their McDelivery service. They know their audience and know that everyone around the world will do everything possible to see the World cup live.
Now it's down to you. Fill in the survey below to tell us who should make the semi-finals.
document.write('');