African All Stars
Aston Villa striker Jonathan Kodjia rediscovered 'joy in playing football again'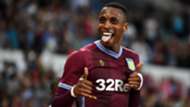 Jonathan Kodjia revealed that went through a very 'difficult period' after a serious ankle injury forced him out for several months, but is able to 'find joy in playing again'.
Kodjia who contributed to Cote d'Ivoire's win over Rwanda in their 2019 Africa Cup of Nations qualifier, is now looking to making up for lost time at club and national levels.
The striker endured a torrid 2017-18 campaign with his ankle - a relapse of the ankle break he suffered in April 2017, against Blackburn Rovers - and returned with a paltry lone goal in 18 English Championship appearances.
However, so far this season, he has been on the right track notching three goals in six games.
"I gradually regained form after a very difficult period last season", Jonathan Kodjia told CAF website.
"A serious injury forced me to rest for several months. Today, I find the joy of playing again.
"As proof, I've scored three goals since the beginning of the Championship.
"In any case, I want to make up for lost time, both for my club and national team".
On Saturday, Villa travel to Ewood Park to take on Blackburn and the France-born marksman will hope to continue with his impressive form, and in healthy condition.