WTF
Aston Villa owner calls on fans to kidnap transfer targets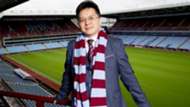 Football fans can be very impatient when it comes to their teams signing new players. The belief is that one new star can totally change a team's fortunes, or help them achieve their goals.
When clubs are linked with players, fans often bombard their Twitter accounts with questions asking if or when the player will sign.
Why the new Juve logo is so important
That is exactly what happens Aston Villa owner Tony Xia, a colourful character who regularly engages with supporters online.
However, one of his latest responses maybe went a bit too far - asking fans to help the "club go to kidnap our targets to come earlier."
Understood all frustrations but if you can help club go to kidnap our targets to come earlier then I would be very happy too. Pls be patient https://t.co/hYWqh2DH5R

— Dr. Tony Xia (@Dr_TonyXia) January 17, 2017
Since taking over the Championship club in June 2016, Xia has spent over £30 million bringing him new players, most notably forwards Ross McCormack and Jonathan Kodija as the Birmingham club look to return to the top-flight.
However, no kidnapping was involved in his nine new signings to date.