KPL
Al-Hayat to represent North Eastern Region in Chapa Dimba tourney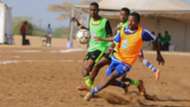 Al-Hayat from Wajir are the champions of Chapa Dimba Na Safaricom North Eastern Region finals held at Garissa University Grounds, Garissa town.
Al-Hayat triumphed after putting up a stunning match against Ifpro (Garissa) wining 7-6 in a penalty shoot-out. It was a tough call for both teams who sought to hold North Eastern region supremacy in a match that ended in a penalty shoot-out after 3-3 draw in the regulation time.
The winners walked away with a cash reward of Sh200, 000 and an opportunity to play in the national grand finale set for March this year.
Over 300 games were played across North Eastern with 102 teams taking part in the matches that kicked off on 18th November 2017. "Plenty of talented youth now have a platform to practice and showcase their abilities and talents courtesy of this tournament.
"We will continue developing grassroots football and scouting for skilled players to draft into the national team and we are grateful to our partners, Safaricom, for being part of this," said Football Kenya Federation President Nick Mwendwa.
Kapenguria Heroes and Tar Tar Girls from Rift, Mwingi Junior Academy and Ngakaa Talent Academy from Eastern and Ombek red Devils and Plateau Queens from Nyanza are the teams that have qualified for the grand finale so far.
Coast, Western, Central and Nairobi regions are also scheduled to hold their regional finals in the next few weeks. At the grand finale, the winning teams will walk away with Sh1 million each and an opportunity to go for an international training and mentorship camp in London in April this year.