AFF Championship
Safee: Relax, enjoy and win us our second AFF title
Former Malaysia international and 2010 AFF Suzuki Cup winner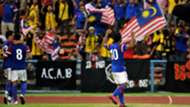 Even though I'm not there, it gives me great pleasure to see my friends and colleagues make it through to the final of the 2018 AFF Suzuki Cup. No one gave the team a chance before the tournament started but look where they are now, playing football in a wonderful way and breaking every barrier along the way.
As you will remember, I was part of the team that got to two finals - 2010 and 2014. One was obviously happier than the other but both are very good memories to have and remember. People always talk about the pressure of playing in the final but it's the completely opposite for me.
It's always happy times to reach the final. That is where we always want to reach. Because once you're in the final, we can go all out as there's nothing to lose. Before we get to the final, it's of course very nerve wrecking and plenty of different thoughts go through your mind. Once you're there, there's a sense of relief. We can go for it and hope for the best.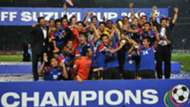 Pressure will always be there but personally I put all that aside. I want to enjoy in the final, to be playing in front of a packed stadium. That's what I want to enjoy on that day. The nerves and the pressure to win for me is less when it comes to the final. It's strangely rather relaxing actually.
If I'm in the squad today, that will be what I'll be saying to my team mates. To just go out, express ourselves and enjoy the occasion. In football, if you enjoy you can do everything. Psychologically it hampers you when you're nervous. The more you relax, the more you can perform. When you enjoy, the positive aura will also help you during the game.
I would have liked to have been in the team this year. I tried but the decision lies with the coach and I respect his selection. Even though I'm not there in a playing capacity, I'm still there as a fan. I'm sure by now you will have seen pictures of me at the stadium for the Thailand match. I'm just as emotionally involved in this tournament as any other Malaysian.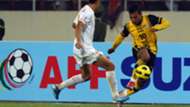 I've played a fair few games against Vietnam within the AFF competition and others. It's always a great challenge to play them and whether it is at Bukit Jalil or My Dinh, the atmosphere is always something to remember. 
In the group stage this year,  Vietnam were lucky because they are playing at home. Now when we play them again in the final, it's time for us to show what we can do on our turf, in our homeground. Playing at home first is good and I'm sure the players will go all out in the first game. And I'm also sure that given the past records, Vietnam will be quacking in their boots to face us.
I've known Coach Tan for a long time and he has done a great job. His approach to the players is very good and the team looks comfortable working with him. I hope he keeps this approach in the future because the gameplay is very effective and the players have understood the coach's philosophy.
You can see that the players are playing for the head coach and that is very important. The players have proven themselves in Bangkok. Even if it's a 0-0 here, we can win over there. When we get to this stage, the players know that if we can beat Thailand who are the defending champions, then why not Vietnam.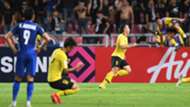 I see the team this year as one team, not a team of individuals. Even though the goals have only been scored by the strike force, others like Safawi (Rasid), Akhyar (Rashid) and (Mohamadou) Sumareh can still play an important part to be pull the attention of the opponent. That opens up the space for Zaquan (Adha) and Mat Yo (Norshahrul Idlan) to score.
One of the things in this tournament that caught my eye is my friend, Mat Yo. We have played together at national team level as well as club level. Looking at the way he has played in the competition thus far, he is surely the man of the tournament for Malaysia.
He has scored very important goals for the country and I think he deserved to be there. He's been through thick and thin in football. There was a dip in him after 2010 and to see him coming back to this level, I'm very happy for him. It's not easy to stay at this level for such a long time.
Last but not least, come on Malaysia, bring on our fiercest Tiger spirit and let's go and win this! 
Follow Goal Malaysia on Instagram