AFC Champions League
AFC Champions League: Al Ain welcomes Al Hilal challenge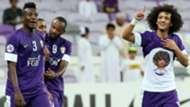 The 2017 AFC Champions League quarter-final ties were confirmed on Tuesday following the competition's Knockout Stage draw in Kuala Lumpur.
Last year's runners-up Al Ain were drawn against Saudi Arabia outfit Al Hilal and their Vice Chairman Ahmad Al Masroui played down suggestions of a rivalry brewing between the two sides, welcoming the challenge instead.
"No (there's no rivalry), we always have a good relation with Al Hilal and a good relation with all the clubs in Asia," Al Masroui told Goal. 
"Al Hilal is like any other team. This is how we look at things. We have to be ready, we have to prepare ourselves and for us it doesn't make any difference."
He went on to claim that no draw would've been an easy one at this stage considering the level of opposition.
Arabian Gulf League remains top in AFC rankings
"If you want to be the champions, you have to go through all the troubles, you have to meet all the challenges. We will go there with full confidence and whatever comes, comes.
"When you get to this level, there are no weak teams. All the teams are good teams."
When asked if Al Ain could do one better this year and win the competition, the club official simply stated their intention to do their best, insisting that the rest is out of their hands.
"Last year, Al Ain were in a very good position to be the champions but we believe that it was never meant for us.
"We will try this year, we will do our best and leave the rest to God."