Premier League
Aduana Stars eyeing possible reunion with former coach Aristica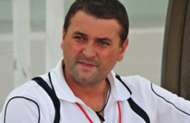 Ghana Premier League defending champions Aduana Stars are currently vetting applicants for a head coach role following the departure of Japanese coach Kenichi Yatsuhashi last month.
About 27 candidates are vying for the position, including the Fire Club's former coach Aristica Cioaba, who could land the job due to his past collaboration with the outfit. 
The 47-year-old had two separate stints with Aduana and is best remembered for guiding the team to finish second in the 2015-16 season before joining Tanzanian side Azam FC.
"Aristica is a good coach and someone who knows the club's history and understand the traditions and culture of the people of Dormaa but I don't know whether he is going to work with us again or a new face will be brought on board," Oppong told Goal.
"The club's top hierarchy is still working around the clock to appoint a new coach very soon. What I can say is that a competent coach will be brought on board.
"Over the years, we've learned a lot regarding coaches therefore we don't want to repeat past mistakes," he added.
 Aristica's first spell at Aduana was in 2011, when he replaced deceased coach Hebert Addo, who led the club to win the Ghana Premier League in their maiden season.