World Cup
Adidas Telstar: The new World Cup ball that interacts with fans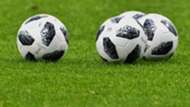 When adidas were designing a ball to be showcased at next year's World Cup, the aim was create a product that was more than something to just be kicked around.
And so the Telstar18 was born - a product that pays tribute to football history, but also displays the extraordinary technology available in ball development.
If you ask anyone to draw a football on paper, they will likely produce an image of a ball with black panels on it - this was the original design of the Telstar in 1968 and the first football to ever look like this.
The Telstar Elust was the official match ball for the 1970 World Cup in Mexico and was designed with its distinctive panels to help aid viewers watching on black-and-white television.
Fast forward to 2017, and the Telstar is back with its distinguishing design, but with added features they wouldn't have dreamed of in the 70's.
Embedded under the skin of the Telstar18 is an NFC chip that will allow users with smartphones to interact with the ball.
When interacted with, the chip will unlock exclusive content and information for the user - including World Cup competitions and challenges, plus more features will be added in the lead-in to Russia.
"The new panel structure and inclusion of an NFC chip has taken football innovation and design to a new level and offers both consumers and players a completely new experience," said adidas category director football hardware, Roland Rommler.
Fans can rest assure the ball will also function on-the-field superbly with the testing process involving players from leading nations and clubs including Argentina, Colombia, Mexico, Manchester United, Real Madrid, Juventus and Ajax
Barcelona and Argentina superstar Lionel Messi has even given the Telstar18 his personal seal of approval.
"I was lucky enough to get to know this ball a bit earlier and I managed to have a try with it," Messi said. "I like all of it: the new design, the colours, everything."
The Telstar18 is available to purchase from adidas global retail stores and the adidas online shop.