African All Stars
Adeshina named 2017 Copa Coca-Cola Most Valuable Player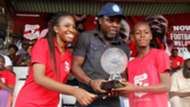 Talent pays! The young and skillful player, Adeshina Kumater, has seen his efforts at the 2017 Copa Coca-Cola win him the Most Valuable Player of the tournament despite his team coming fourth place in the 14 week-long competition.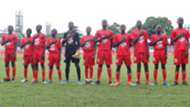 For him, 2017 will remain an unforgettable year, with the promising teenager, as he has described to anyone willing to listen, that the just concluded U-15 COPA Coca-Cola tourney is his most memorable year so far. The 13-years old will also be joining teens like him, from other parts of the world at the Copa Coca-Cola International Camp which will take place in South-Africa later this year.
"I am super excited right now because I know it's not easy to be chosen as the best player among thousands of others," said Adeshina.
"It would have been a perfect day for me if my team won the tournament, but we gave our best and we know we will come back stronger next year.''
The Most Valuable Player at the 2017 Copa Coca-Cola will also be joined by seven other outstanding players to visit the Copa Coca-Cola International Summer Camp in Johannesburg, South Africa.