Liverpool
'A monster!' - How Liverpool's £75m man Van Dijk silenced the doubters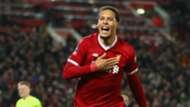 For once in his life, Virgil van Dijk was showing signs of nerves. A puff of the cheeks, a tap of the feet. Eyes wide, mind racing. It was a Friday night, and the clock was ticking.
Liverpool versus Everton would be a big date for anyone, let alone someone about to take their first steps as the world's most expensive defender. Anfield had waited for the £75 million (€84m/$96m) man; it had begged for him. Now, it was time to deliver.
Van Dijk did, of course. His Reds debut ended in victory, his second-half header in front of the Kop securing the Reds' progression to round four. It was the dream start to his Liverpool career, and one the Dutchman has not looked back from.
Eleven months on, Everton are heading to Anfield again but for Van Dijk there will be no pre-match tension. He's still the world's most expensive defender; the difference now is that he's recognised as one of its best too.
The numbers speak for themselves but they don't say everything. Van Dijk has played 40 games for Liverpool since joining, conceding 36 goals and keeping 20 clean sheets. Given the issues which had dogged the Reds prior to his arrival, it represents a significant improvement.
This season, he has led a backline which has conceded just five goals in 13 Premier League games, Liverpool's best ever start to a league campaign defensively. The Reds once went through an entire season shipping just 16 goals; remarkably, they are on course to better that record this time around.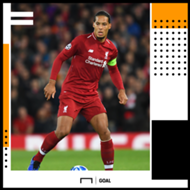 Some impact, then. Liverpool's pursuit of Van Dijk was long and at times bitter, but their doggedness has certainly paid off. You don't hear much talk of his transfer fee now.
Gary Neville has certainly changed his tune. "I didn't think he was worth £75m," the former Manchester United man says. "And I didn't think he would have the impact on Liverpool's defence that he's had. He's a monster."
Neville has compared Van Dijk to Jaap Stam, while plenty with Liverpool connections have mentioned him in the same breath as Alan Hansen. Big praise, given the Scot is probably the Reds' greatest ever centre-back.
"He's similar," says Kop legend Jan Molby. "In that you always feel that whatever happens he will help you out. He looks after people. There's nothing better as a footballer than knowing someone has your back."
Those leadership qualities were a key reason why Jurgen Klopp fought so hard for Van Dijk's signing. Michael Edwards, Liverpool's sporting director, worked tirelessly to smooth relations with Southampton and secure a deal which had appeared dead at one stage. At Anfield, it is regarded as one of his biggest achievements.
Van Dijk's impact is clear to see. Not just in the way he passes the ball or wins it in the air – has there ever been a better header of the ball, defensively speaking, at Liverpool? – but in the way those around him have flourished in his presence too.
Joe Gomez is emerging as the high-class centre back we were told about, while Dejan Lovren played the best, most consistent football of his Reds career at the back end of last season. Both look emboldened with the giant Van Dijk beside them.
"I think he's right in the top group," says Jamie Carragher. "Some people may put him top."
Chris Sutton, speaking on BT Sport recently, went further, suggesting Van Dijk was not just the best defender in the world, but the best player too. Predictably, Sutton's comments caused quite a stir on social media.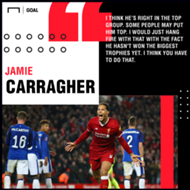 It will take success and silverware for people to start agreeing with those kind of sentiments, but in an era where genuine, top-class centre-backs are in short supply, the all-round qualities of Van Dijk stand out a mile.
Physically imposing, technically gifted, ultra-consistent and young enough to get even better; £75m may well be seen as a bargain in years to come.
How different Liverpool's recent history could have been had they spotted him, or rather gambled on him, sooner? He was on the club's radar before moving to Celtic from Groningen in 2013, and Brendan Rodgers claimed the club passed up the chance to sign him when he switched to Southampton two years later.
In the meantime, the Reds were spending big on Lovren and Mamadou Sakho, or using the likes of Kolo Toure, Lucas Leiva and Emre Can as stop-gaps.
They went close to the Premier League title under Rodgers in 2013-14, yet conceded 50 goals in the process. The following season it was 48, and then 50 again. League titles are not won with those numbers. A third into this campaign, the situation looks so much brighter.
If Liverpool are to end that long, painful wait for a title, then Van Dijk will be key, both in his own performances and in his impact elsewhere. Many Reds fans would like to see him captain the club, as he now does with his country. Tellingly, when Klopp asked his players to vote for his third and fourth-choice skippers recently, they chose Van Dijk and another Dutchman, Gini Wijnaldum.
That's how important he already is to this team, this squad. Liverpool have made some excellent signings over the last few years, but none better than him. And the hope at Anfield is that his best is still to come.