Betting
2018 World Cup: Portugal and Spain continue World Cup journey in Group B clashes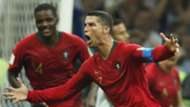 Cristiano Ronaldo and his Portugal teammates continue their World Cup campaign this coming Wednesday (20 June) against reigning African champions Morocco. Ronaldo, fresh from a hat-trick against Spain, will be looking to add to his tally, whilst Spain also look to get their first win of the tournament against Iran.
Getting started
First things first, head on over to the Oddsshark website, search for your favourite betting agency and get your account open with a username and password. As a new user and with the World Cup in full swing, there should be several offers and promotions for you to enjoy.
Where should I be investing my money?
Morocco come into this game on a low having conceded a last gasp winner to Iran in their opening game. And their last is unlikely to get any easier against a side who contain arguably the best player in world football right now.
Looking at the most simple kind of bet you can make, on the outcome of a game, it is clear that Portugal the clear favourites. The current European champions are priced at just 1.66 to take all three points, whilst Morocco are out at 6.00, according to Oddsshark.
Despite winning the European Championships in 2016, Portugal are considered somewhat of a dark horse for the World Cup crown. Portugal are at a very long 21.00 to be crowned world champions, although you can back them to reach the semi-finals at just 4.50.
And following his hat-trick against Spain, it is patently clear that there remains no bigger star for the Portuguese than Real Madrid forward Cristiano Ronaldo. The veteran is at just 1.83 to score in this game, and at 3.60 to get either the first or last goal – he did both of those things against Spain in the first round.
However, there is also no denying that there were holes in the Portuguese defence, and there could be another goal fest on the cards. You can bet on there being over 2.5 goals in this one at a price of 2.66, or, if you think there will be less than 2.5 goals, the price falls to just 1.66.
You can be even more specific – think there will be under two goals? Then back that outcome at 3.00. Two or three goals in the game comes in at 1.95, while over three goals is at 4.00.
Odds: Portugal (1.66), Morocco (6.00), draw (3.80)
The other contest in Group B sees Spain take on Iran as they look for their first win of the World Cup. The 2010 world champions are behind Iran on points, who beat Morocco in their opening game, but it is Fernando Hierro's men who come into this game as the clear favourites to take the points.
Spain are at just 1.16 to pick up their first win of the competition, whilst Iran are at the huge price of 23.00 to pick up their second successive win. Whichever way you slice this cake, it looks a comfortable ride for the European side.
Iran have lost five of their last six World Cup fixtures against European sides and, in all honesty, this is likely to be no different. While it is always difficult trying to guess what the exact result of any given game will be, you can back Spain to record a 3-0 win in this one at 6.00.
The Spanish may have been eliminated at the group stage of two of the last three World Cups, but that doesn't look like happening this time round. The 2010 World Cup winners are at just 1.083 to reach the round of 16, and 1.66 to top Group B.
And a player in fine form for Spain right now is Diego Costa. The Atletico Madrid striker, who bagged a brace in the first round against Portugal, is the favourite to find the back of the net in this one, at 1.83 to score at any time during the game and 4.00 to bag either the first or last goal.
These two matches will also include the two favourites for this year's Golden Boot. Costa's price has been cut to 7.50, whilst Ronaldo, following his hat-trick heroics against Spain is now at just 3.25 to top the coring charts at the World Cup.
But looking at the technical quality of these sides it should be a walk in the park for the former world champions. You can back Spain to be leading at both the interval and the full time whistle at just 1.57.
Odds: Iran (21.00), Spain (1.18), draw (7.50)
2018 FIFA WORLD CUP FIRST ROUND GROUP GAMES
Thursday, 14 June
4.00pm – (1.45) Russia 5 x 0 Saudi Arabia (9.12) 
                  Draw (4.39)
Friday, 15 June
1.00pm – (7.50) Egypt 0 x 1 Uruguay (1.57)
                  Draw (3.90)
4.00pm – (2.25) Morocco 0 x 1 Iran (3.90)
                  Draw (3.10)
7.00pm – (4.20) Portugal 3 x 3 Spain (2.05)
                  Draw (3.30)
Saturday, 16 June
11.00am – (1.25) France 2 x 1 Australia (12.00)
                  Draw (7.00)
2.00pm – (1.33) Argentina 1 x 1 Iceland (12.00)
                  Draw (5.25)
5.00pm – (3.30) Peru 0 x 1 Denmark (2.40)
                 Draw (3.25)
8.00pm – (1.72) Croatia 2 x 0 Nigeria (5.75)
                    Draw (3.70)
Sunday, 17 June
1.00pm – (5.00) Costa Rica 0 x 1 Serbia (1.90)
                 Draw (3.30)
4.00pm – (1.50) Germany 0 x 1 Mexico (7.50)
                  Draw (4.50)
7.00pm – (1.40) Brazil 1 x 1 Switzerland (9.50)
                  Draw (4.80)
Monday, 18 June
1.00pm – (2.05) Sweden 1 x 0 South Korea (4.33)
                  Draw (3.25)
4.00pm – (1.18) Belgium 3 x 0 Panama (21.00)
                 Draw (7.50)
7.00pm – (9.00) Tunisia 1 x 2 England (1.44)
                  Draw (4.50)
Tuesday, 19 June
1.00pm – (1.72) Colombia x Japan (6.00)
                  Draw (3.60)
4.00pm – (2.40) Poland x Senegal (3.30)
                  Draw (3.25)