AFC U23 Championship
2018 AFC U-23 Championship Qualifiers: UAE strengthen grip on Group D with 1-0 win over Lebanon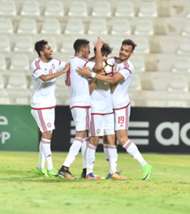 A late penalty from Ahmad Al Hashmi handed UAE a 1-0 win over Lebanon in their second Group D AFC Under-23 Championship qualifier at the Tahnoun Bin Mohammad Stadium in Al Ain on Monday.
The result sees the UAE stay top of the group level on six points with Uzbekistan but ahead on goal difference after The Whites opened with a 5-0 win over Nepal on Saturday.
Uzbekistan, who opened their account with a 3-1 win over Lebanon on Saturday, followed it up with a 2-0 win over Nepal earlier on Monday.
This now means the UAE's final group game against Uzbekistan on Wednesday will prove pivotal when it comes to the all important first and second placings.
Arabian Gulf League fixtures for 2017-18 season announced
Calls for a penalty, when Al Hashmi was brought down by Lebanon's Khaled Ali after a run into the box, went unanswered on 75 minutes. But 10 minutes later, Al Yahyaee was brought down by Khaled Ali for Al Hashmi to spare the blushes from the spot, placing his penalty just left of keeper Mostafa Matar.  
Lebanon coach Milic Curcic, while pleased with their defensive performance in the first 45, was disappointed his side couldn't build on that and engineer a few attacks of their own.
"I'm satisfied with the defence in the first half but you can't play defensively for 90 minutes, you need to pass to the sides and quickly counter," he said. 
"My players don't believe in themselves or have confidence going forward. I believe in them but I don't know why they are so afraid, maybe it's because this was our last chance to go to China and it was too much pressure for them," he added.
Meanwhile, UAE coach Hassan Al Abdouli was glad his troops came away with a win despite still recovering from their opening encounter and being distracted by the other result in Group D.
"We were expecting a difficult match for several reasons; the players exerted themselves in the last match and you have to take into consideration the weather; Lebanon also play very defensively and my players were distracted by the Uzbekistan-Nepal result, so they lost focus due to a lack of experience. These aren't excuses, but we did our best given the circumstances," he explained.