Ranking the greatest Africans to play for Liverpool
Last Updated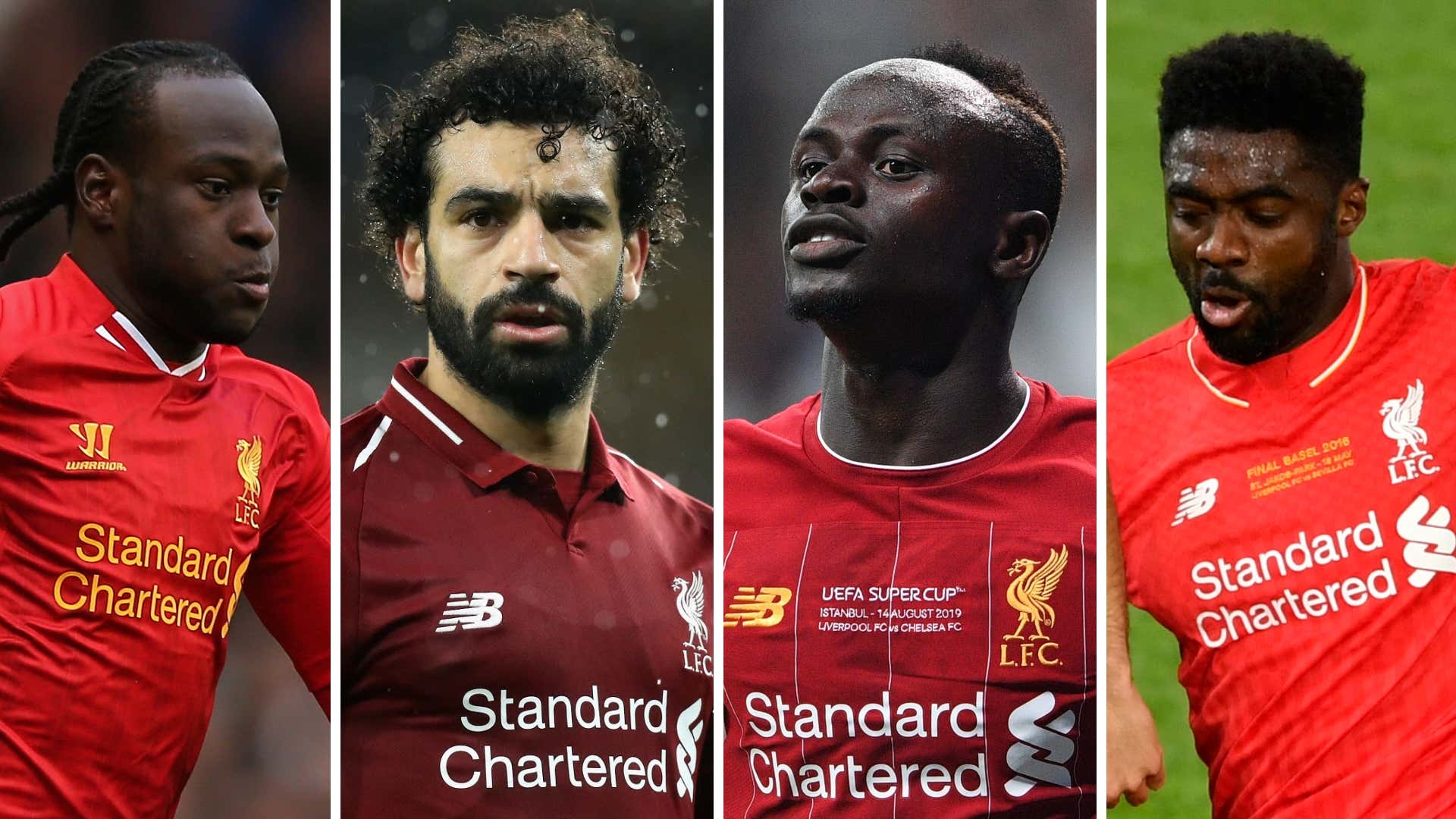 Goal/Getty
Gettyimages

10. Victor Moses

The wideman didn't enjoy the best time of his career at Liverpool, where he spent just one season - on loan - in the 2013-14 season, but failed to make a significant impact or earn a permanent move from Chelsea.

The Nigeria international did eventually make his mark at Stamford Bridge, winning the title as a key man under Antonio Conte, playing in an unfamiliar right wing-back position, in the 2016-17 season

Getty Images

9. Naby Keita

Jugen Klopp desperately wanted to sign Keita from RB Leipzig following the Guinea man's mesmerising exploits in the Bundesliga.

Injuries have slowed his momentum at Liverpool, and despite some stunning strikes, the jury remains out on whether he will go down as an Anfield success story.

8. El Hadji Diouf

A two-time African Footballer of the Year, and outrageously talented, Diouf moved to Liverpool in the summer of 2002 - arriving shortly after emerging as the star man of Senegal's run to the World Cup quarter-finals.

Unfortuantely, despite impressing in a League Cup final victory over Manchester United, he struggled to demonstrate his top form at Anfield, fell out with Steven Gerrard...and ultimately the supporters, and was soon moved on.

He spent time with the likes of Bolton Wanderers, Sunderland, Blackburn Rovers and Glasgow Rangers, but never reached the heights expected of him.

Phil Cole/Getty Images

7. Mohamed Sissoko

The powerful midfielder enjoyed a successful spell at Valencia-winning the Spanish title, the Uefa Cup and the Super Cup, before moving to Liverpool where he received the 'next Vieira' tag.

An eye injury seriously stymied his progress and the arrival of Javier Mascherano prompted his exit from Anfield.

He won the French title with Paris Saint-Germain and finished third with Mali at the 2013 Cup of Nations.

6. Rigobert Song

Alex Song's uncle never quite hit it off at Liverpool, and certainly didn't with Jamie Carragher, who memorably remembered how he hacked Song down during a Melwood training session after being unimpressed with the centre-back's attitude.

Cameroon's record cap holder featured at four World Cups and won a clutch of titles with Galatasaray, but his attitude arguably cost him greater success.

Getty Images

5. Joel Matip

Underrated centre-back who's forged a magnificent defensive partnership with Virgil van Dijk.

He's still proving to critics that he's not too 'fragile' to play an entire season without going down with injury, and he only featured nine times during the title-winning campaign.

The defender was a Champions League winner in 2019.

4. Kolo Toure

Toure helped Liverpool to the Europa League final during his sole season with the club before moving on to Celtic-to be reunited with Brendan Rodgers on a free transfer.

He was previously an Invincible with Arsenal, a Premier League winner with Manchester City, and an African champion with the Ivory Coast, and will go down in history as one of Africa's finest centre-backs.

The defender was part of the Elephants squad that qualified for their first World Cup - in 2006 - and also played in the tournament in 2010 and 2014 without progressing to the knockouts.

Getty

3. Bruce Grobbelaar

The Zimbabwe stopper is remembered as one of Africa's finest goalkeepers in history…and is certainly the most successful.

He was a key man in one of Liverpool's greatest sides, winning six titles and three domestic cups during his time at Anfield. He was influential as the Reds won the European Cup in 1984, putting AS Roma's strikers off with his infamous bandy legs in the final shootout.

Getty Images

2. Sadio Mane

Mane moved to Anfield in the summer of 2016 in a £36 million deal from Southampton, and has proved to be an excellent piece of business.

Even though his first few seasons were broken up at times by injury or suspension or absence due to the Africa Cup of Nations, Mane won over supporters with his ingenuity in the final third.

He won the Golden Boot, was inspirational as Liverpool won the Champions League last term, and was central to their Premier League triumph.

Mane also joined the Premier League 100 club.

Getty Images

1. Mohamed Salah

After initially struggling to establish himself at Chelsea, Salah has proved to be one of the Premier League's top stars upon his return to England with Liverpool.

He found his scoring boots in Italy, with Fiorentina and AS Roma, and has won two consecutive Golden Boots since arriving at Anfield.

Salah has been a central figure in Liverpool's runs to two Champions League finals, netting in their triumph over Tottenham Hotspur in 2019, and he again maintained his standards as the Reds won the Premier League in 2020.

Since then, he's levelled Didier Drogba as the Prem's top African scorer of all time.

At international level, he helped Egypt to the Nations Cup final - they were ultimately defeated by Cameroon - in 2017, and dragged them to the 2018 World Cup finals.