World Cup
ICYMI: Young Bafana Journal: Opening ceremony in Russia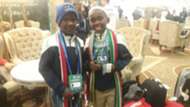 Day 9
Oh No!
It is time to pack and leave for tbe long flight home! ;(
I cannot describe my feelings as this has been an amazing journey, way beyond my wildest dreams.  
I experienced emotions and feelings that were new to me and we are really thankful to everyone who made this trip possible and our dream come true.
I have so much to tell all my friends and family when I get home that I will keep them busy for ages.
We would like to say ahuge thank you to Gazprom and Football for Frienship for an unforgettable experience.
Goodbye Russia and thank you for coming with us on this experience.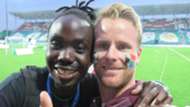 Day 8
Today is the World Cup Opening Day!!
We are super excited and cannot wait!
Razor and the players went to practice again for the ceremony while we chilled at the hotel.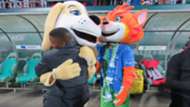 I went into town with coaches Graham and Bernd to buy some data.
We left for the stadium at 14.00 and got stuck in a traffic jam for nearly 3 hours! 
I have never seen so many cars and buses and people in my life - 80 000 people!
The atmosphere in the stadium was incredible and the show before the game was out of this world and unforgettable.
It was a good game with Russia scoring 5 goals which was exciting to watch:-)
I would love to be able to play in the World Cup one day .............
Prof
Day 7
This morning we had some rest time which I needed badly!
It was a chance to catch up with my friends and we played a lot of different games and had competitions against one another.
It really was great fun and cemented the relationships with all of my new friends.
Razor and all the players went to the stadium to practice for the World Cup Opening ceremony and they were there for most of the day. Each player will carry the flag of his or her country in front of 80 000 people! 
How cool is that?  
In the evening we went to the Football for Friendship awards evening - we were entertained at the aquarium with a magnificent display by SeaLions and giant porpoises - it was simply amazing
Day 6
Today is the big day!
Razor will play on foreign soil for the first time! He made a dream start by scoring a goal after just 10 minutes of play to help his tean, the Lions, to a 3-1 victory.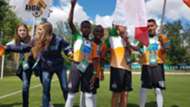 They were unlucky to lose the second match 1-0, but came back to win the third. 
Unfortunately they missed qualifying for the quarter final on goal average by one single goal - nevertheless Razor played very well and enjoyed the tournament.
For the journalists we had a press conference before the start and we have to produce a daily report on our activities - I have made so many friends from all over the world and hope to keep contact with them in the future.
Prof. 
Day 5
Today we put in some serious practice with our coach from Burundi to make sure that our team, the Lions, are well prepared for the tournament on Tuesday.
The practice session went well and I will be playing as an attacker in our 1-3-1 formation going forward and as a defensive midfielder on the defensive, I am very excited about tomorrow , the big tournament day.
Cheers Razor.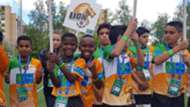 I also bad a busy day with interviews and reports and only finished a meeting with the media staff at 21:30 in the evening. The result is that I am really tired and tomorrow is a big day for all of us.
We were glad to welcome Coach Graham yesterday and he will be helping me with the journalistic work over the next couple of days.
Prof.
Day 4 
Moscow was mainly a rest day especially for the player ,Razor, for  myself -Professor- it was a normal day, meaning that I still had to submit a report  as we have to every day on the happenings. 
I discovered an interesting fact on my fellow South African friend Razor, he cannot sleep with the light off! So since we share a room, we worked out that I will shower first and get into bed, switch off the light and fall asleep as Razor showers. When he comes out he switches the light on and falls asleep ! Works like a dream !
Tomorrow is a busy day for both Razor and me as he has to train and i have meetings and a press conference . 
We are also awaiting our U/14 coach Graham from back home. 
DAY 3
What a day for us! Fantastic Opening ceremony for Football 4 Friendship - what a feeling to be part of this with friends from all over the world - we are really amazed  beyond our wildest dreams to be part of it.
This afternoon  Razor went to practice with his team , the Lions and I went to attend a press conference with all tbe junior journalists.
We are learning some Russian words from our coach as well as learning some words from our team mates from Sri Lanks and Peru.
We are tired  after a long day and eagerly awaiting a lovely supper when we get back.
PROF AND RAZOR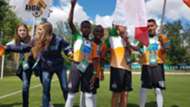 DAY 2
We have arrived in Moscow!
The flight was sooo...exciting and Istanbul Airport totally awesome - we both gave the flying experience 9 out of 10 and the food 10 out of 10.
Our rooms are great and they also get tbe thumbs up with a 10 out of 10:-)
We are getting to know some of the other kids too. They are from all over the world. 
This is us with our Nigerian friend.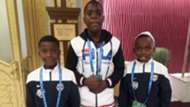 We are tired but don't want to sleep in case we miss something. 
Check it out, we are learning media skills too!!

This is cool .....
More tomorrow!!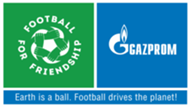 DAY 1
Hi everyone,
The day has finally arrived! Today Prof and I fly for tbe very first time!
And it is to Moscow to be part of the Fifa World Cup !!
We are packed and ready to board the plane.
Never did we think that two guys from the township would make this dream come true.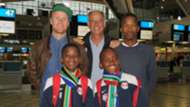 Coach Graham gave us a list of what to pack but  somehow I still forgot my cell phone charger! 
Our families are here at the Airport to say goodbye and suddenly I am a bit nervous but very excited at the same time.
Those planes are so big!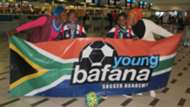 With hugs and kisses and lots of photos we say goodbye -this is going to be really cool!

Razor