Young Bafana entertain German dignitaries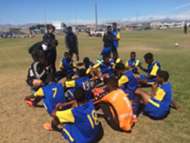 Despite their busy schedule in preparation for the new Super League season, Young Bafana took time off to entertain guests from German Parliament in early March.
Bafana began their day by collecting the boys from Lwandle, visiting coach Veron's house and actively participating in their English programme followed by their usual soccer practice - which was a very interactive afternoon for all involved. 
More befitting was how three of the boys delivered speeches for the delegates. Merely, two years ago these boys would not even look one in the eyes upon greeting. How far they have come in such a short period of time is simply amazing and touching.
German Bundesliga 2 VfB Stuttgart donated soccer jerseys to Young Bafana, whilst SV Sindelbachtal donated training equipment.

Cape Town City's Austrian midfielder Roland Putche also paid the club a surprise during the current international break.
Moreover, the newly formed U11/12 team have played their first couple of matches. Including a win against PPG Langa. 
But the club had a sad ending to the month of March, however, as they had to bid farewell to one of their coaches, Julian.