African All Stars
Yannick Bolasie thrilled with Everton's pre-season tour to Tanzania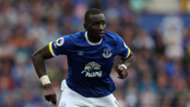 Yannick Bolasie is happy with Everton's visit to Africa and has lauded the club for becoming the first English Premier League side to visit Tanzania.
The Goodison Park outfit enjoyed warm welcome from fans since their arrival at the airport on Wednesday and the former Crystal Palace winger believes Everton deserve credits for making the dreams of the football lovers come true.
The 28-year-old attacker missed the Blues 2-1 win over Kenyan side, Gor Mahia at the Benjamin Mkapa National Stadium on Thursday owing to a knee injury he sustained last season.
"The welcome has been incredible," Bolasie told club website.
 "We are the first Premier League team to come to Tanzania and it has been fantastic for myself and Everton to be here.
"It is a dream come true for the people here to have a Premier League team come out to their country. Everton deserve a lot of credit, that's for sure, because that dream would not have happened for many of them.
"It felt nice to have a little bit of an extra special welcome, with the group of Congo fans here as well. It makes we want to get back and play! The Congolese fans have always been great with me and I always try and give them 100 per cent.
"Whenever I have played for my former clubs and now for Everton, I know that I am representing not only myself but Africa as well."
Bolasie praised the Merseyside outfit for making fans have a feel of the Premier League football with their trip but rued his inability to play for the Ronald Koeman's men on Thursday as he continues his recovery from injury.
"It is a huge thing to bring Premier League football here to Tanzania," he continued.
"You see the excitement over the players who have come, and you can see that it is a great thing that Everton have done. There are not many teams that would come out here. The population are just happy to be able to see us come out and play in their stadiums.
"I'm just disappointed not to play! The last two times I have come to Africa I haven't been able to play so it's a bit weird. But it has been great to come out and be a part of the group. It has been a little break for me and has allowed me to bond with the new faces we have in the squad."