Premier League
Xhaka's struggle typifies Arsenal's total lack of direction under Wenger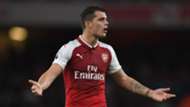 Arsene Wenger has always been clear on what separates a great player from an average one.
Last season, the Arsenal manager spoke to Ian Wright, Sol Campbell and William Gallas as part of the media coverage surrounding his 20 years in charge of Arsenal, admitting that, while the manager's job does carry importance to what unfolds on the pitch, it still has its limitations.
"You play 11 against 11. That's a billion of different situations possible and no situation is the same as the previous one," he said.
"The player always has to make a decision, perceive the situation and execute. No manager in the world can absolutely tell the player exactly at the second what will happen to him.
"The player has to make that decision on the football pitch and you have to put them in the position where they can make clear decisions. That's why you have great players and less great players."


Decision-making is one aspect of Granit Xhaka's game which has been criticised since he arrived for a fee in the region of £35 million from Borussia Monchengladbach in 2016. The Switzerland international was earmarked as a player to assert himself and become Arsenal's midfield artist, but the reality is that he has struggled at the heart of a team and manager who haven't played to his strengths.
Social media has long been considered the barometer of how supporters feel towards a certain player or manager and Xhaka has borne the brunt of much of the ire levelled at Arsenal players in recent seasons, with many critical of his positional discipline and slowness in reacting to opposition pressing.
"He has to deal with that [criticism], he's a professional football player," his older brother Taulant Xhaka told Goal .
"This also means that you can deal with both positive and negative experiences."
During his time at Monchengladbach, where he was named the club's youngest-ever captain at the age of 23 and made the Bundesliga team of the year in the 2014/15 season, Xhaka played alongside energetic midfielder Mahmoud Dahoud in what was mostly a 3-4-1-2 formation. Dahoud had his own defensive responsibilities, which involved protecting the back three when the full-backs bombed forward.
But, at Arsenal, Xhaka has been left far too exposed, particularly in the Premier League, with the likes of Jack Wilshere and Aaron Ramsey playing slightly ahead of the 25-year-old.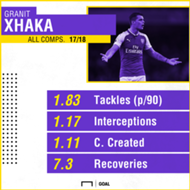 This season, Xhaka averages 1.17 tackles and an impressive 7.7 recoveries per 90 minutes in all competitions. In comparison, N'Golo Kante, who is Chelsea's natural defensive midfielder, averages 3.3 tackles and 2.1 interceptions per game.
An astute passer who can distribute the ball from deep to start attacking moves, Xhaka's weaknesses have been found out when the Gunners give the ball away. Xhaka is not, and will never be, a defensive midfielder and that's where the problem lies.
Wenger labelled him a "box-to-box player" at the start of last season before saying five months later that "he's more a deep playmaker I think than a box-to-box player". If his own manager doesn't know where the player's best position is, then the issue is a lack of guidance from the Frenchman as to what his role entails.
"Arsene Wenger has already taught him a lot, both humanly and playfully. But we do not talk about that very often, so it's hard to judge from my point of view," Taulant, who plays for FC Basel in Switzerland, said.
"I watch the games when I have the time, but in football, when you're in a negative spiral, the simplest things do not work anymore.
"That's just the case for Arsenal at the moment. It's similar here in Basel. It is clear that the players have enough quality, but if the form is bad, it is difficult."
The current Arsenal team lacks balance and, while improvements in Xhaka's individual game are certainly needed, he isn't the main reason why Wenger's side aren't performing at the top level on a consistent basis.
Speaking after Crystal Palace beat Arsenal 3-0 in April last year, the Eagles' then-manager Sam Allardyce said: "They leave [Shkodran] Mustafi and Gabriel really exposed. Monreal and Bellerin play like right and left wingers. The wingers come inside with the centre-forward, and [the centre-backs] are just left on their own. So, if you can get at them, you can get into the box and make chances."
Wenger said eight years ago that his footballing philosophy "is not to be in trouble, but to fool the opponent into trouble". Unfortunately for the Arsenal manager, as things stand, his own future is in trouble and the lack of direction given to the likes of Xhaka can be witnessed in the way his team play on the pitch.
The qualities that Xhaka showed in the Bundesliga made him one of the most sought-after players in European football but, until he is deployed in a system or alongside a midfielder which suits him, then the £35m fee Arsenal paid will continue to look like an expensive mistake.