Barcelona
Xavi reveals the moment he knew Messi was destined to be a legend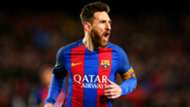 ---
EXCLUSIVE
---
Barcelona legend Xavi says he knew Lionel Messi was destined for greatness the first time he saw him and believes the Argentine is now "the best in history".
As a fellow graduate of the famed La Masia academy system at Camp Nou, the development of a prodigious young talent was closely monitored by Xavi as he moved through the ranks.
He was already an established member of the first-team fold by the time Messi was edging his way towards senior recognition, with Frank Rijkaard handing him his debut in October 2004.
The diminutive South American was well known to those around him by the time he made his breakthrough, with his potential to become a global superstar apparent from a young age.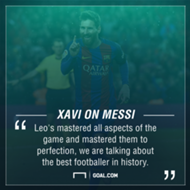 Pressed on whether he always knew that Messi - a man with a remarkable 496-goal haul for the club - would become an iconic figure, Xavi told Goal: "Yes, from the moment you see Leo train for the first time, when I saw him for the first time and I had already been told that in the youth sides there was an Argentine who was incredible.
"From the first time he came up to the first time you can see it, he was different.
"He is a player who can dribble with ease, who sees the game in front of him, who can take on players easily. He also has great personality and guts, and a great shot.
"Leo has mastered all aspects of the game and mastered them to perfection, we are talking about the best footballer in history.
Why Dybala is not Messi's heir
"But I think Messi already started out as an extraordinary player, although he has improved and right now he is of course the best we can see in the entire world – I would go as far as to say he is the best in history."
Having spent many successful years working alongside Messi at Camp Nou, Xavi moved on to Al Sadd in the summer of 2015.
He has, however, kept a close eye on events in Catalonia and remains well placed to offer an opinion on the available talent that could improve an already star-studded squad.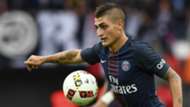 For the World Cup winner, Paris Saint-Germain's Marco Verratti would be an obvious choice to bring on board, with the combative Italian possessing many of the qualities that helped him to become one of the finest midfielders of the modern era.
"[Marco Verratti] would be ideal for Barcelona," added the 37-year-old.
Verratti: I want to play with Neymar
"[Ivan] Rakitic is clearly doing a brilliant job, I think he has adapted well to Barcelona's football. Maybe he is doing a less obvious job that people don't value as much, but Verratti also has the talent to play in Barcelona, without a doubt. I also think he is the type of player I was."
Verratti has been heavily linked with a move to Camp Nou in recent months, with talk of possible £70 million bids doing the rounds ahead of the summer transfer window.