Premier League
Worrying trend emerges for Pep & Man City as another big away game goes begging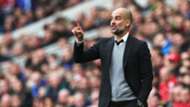 ---
COMMENT
---
It was during Pep Guardiola's lively press conference in the wake of Manchester City's draw with Liverpool that he revealed why his side's missed chances have weighed so heavily on his mind.
"When you arrive and score a goal, you have more control," was the crux of it. It is all about control.
Mustafi earns under-fire Arsenal precious point
While it is a basic concept that a team with a lead is in a privileged position, it is no secret that Guardiola has looked to dominate games, to control every possible element, way before he even became coach of Barcelona's B team.
City did not did not take their chances against Liverpool and they did not control the game, but Guardiola, given the reaction of his players following their Champions League elimination, was sufficiently pleased to put it down as one of the proudest days of his career.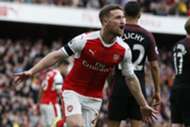 But if the performance was rightly seen as another suggestion that City are heading in the right direction, that something is close to clicking, Sunday's game at Arsenal is a little more concerning.
City did take their first chance, a wonderful goal finished off by the Blues' best player, Leroy Sane, following a sublime volleyed through-ball by Kevin De Bruyne.
Arsenal show no growth in 2016-17
Yet there was no control, and not for the first time away from home this season.
It's true that De Bruyne hit the post soon afterwards, and David Silva went close with the immediate follow-up - yet more examples of missed chances - but City already had their lead and they retreated all the same.
For the next half an hour or so Arsenal, who looked brittle and there for the taking early on, got back themselves back into the game as City failed to build from the back. There were too many loose touches and misplaced passes to allow the Blues to do what they do best: create.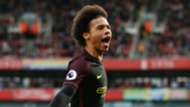 It was not until Arsenal showed their own weakness that City got themselves into a dangerous position again. Naturally, the Gunners equalised only to immediately switch off, allowing the visitors to create, and take, another chance. Sergio Aguero, so often the focus of these discussions, fired in for 2-1, despite slipping.
But again City failed to capitalise on their position. The half-time decision to bring on Yaya Toure for Raheem Sterling, who had struggled with an injury in the build-up and endured a difficult first half, was a sign that Guardiola knew he needed more control in the middle, especially as he did not see fit to change stand-in right-back Jesus Navas, who flailed from the off.
Sane proves predatory instinct
When Shkodran Mustafi glanced in a corner for 2-2 eight minutes into the second half, thanks to some sloppy defending from City, nobody could say Arsenal did not deserve to be level. Both sides had moments of quality, both were making mistakes, neither was noticeably better than the other, but it was City who twice had the lead and twice threw it away.
That is not how it was supposed to turn out. Aguero failed to convert two headers after the break - the first from a cross which was flashed at him, the second from a difficult position as the ball arched behind him - but the chances were not the gilt-edged kind that he and his team-mates have wasted in countless other matches this season, usually at home.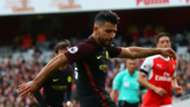 City's problems are well known by now - they do not take their chances and they can be caught out at the back - but they will not properly be rectified until the summer, at the earliest.
Broadly, those same old traits were on show at the Emirates Stadium, but that lack of control, despite scoring early, will come as a concern.
City have had better results on the road than at the Etihad Stadium this season, but there are a number of home performances which have been held up as examples of hard-luck stories: Everton, Chelsea, Tottenham and Liverpool among them.
Welbeck questions Arsenal desire
And while City's away record is second only to Chelsea's, there is something of a big-game trend. Since dominating the Manchester derby early in the season, City have been comfortably beaten in many of their most testing matches.
They were outplayed at Tottenham and Barcelona, listless at Liverpool, pulled apart at Everton and confused at Monaco. Given Arsenal's current plight - they had lost six of their nine games heading into this one, beating Hull, Sutton and Lincoln in the others - this was a real wasted opportunity.

City have played out a number of draws which, in the grand scheme of things, are rightly regarded as steps in the right direction. This was not one. It should not be difficult to improve the quality of the squad this summer, given the poor back-up options behind the first team, but there are fewer guarantees that the new-look outfit will have what it takes to control these big occasions. That is something Guardiola must still figure out for himself.