West Bromwich Albion
WATCH: Will Conte's Chelsea handle the pressure to secure the Premier League title?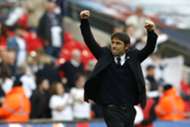 Three points will do it.
After a campaign of swagger and dominance, league-leaders Chelsea require just one more victory on Friday against West Bromwich Albion to take the Premier League title back to Stamford Bridge.
It sounds straightforward, but might it be more complicated than it seems?
Though the Baggies have little to play for at this stage of the season, the Blues have won only once in their last five visits to the Hawthorns. They've also seen red cards in each of their last two trips there, the first of which was a 3-0 drubbing in May 2015.
It's a record that Antonio Conte and his men will want to set straight on Friday, and the team's away form under the Italian this season suggests they're well placed to do so.
With 39 points collected on the road this term, Chelsea are one win off of equalling the highest points tally away from home since Manchester United collected 42 in 2011-12.
Time and again, the Blues have kept their heads in the biggest moments, the result of which has seen them dominate the Goal Pressure Index, presented by Sure and powered by Opta data, which provides the first ever system to measure and rate a team and player's performance under pressure.
The Goal Pressure Index uses more than 750,000 data points as well as factors including league position, point in the season and the opposition to calculate a rating out of 100 for every Premier League player every week.
Chelsea have seven players in the top 20 of the Pressure Index seasonal scores – more than any other side.
But if Chelsea slip up, Tottenham Hotspur will be ready to pounce. Taking on Manchester United on Sunday at White Hart Lane, Spurs are searching for a 14th straight win at home – a number that would equal a club record set in 1987.
But to do that, Mauricio Pochettino's men will need to find a way past Eric Bailly. With an average score of 88/100 across his last five games, the United centre-back is the leading defender in the Goal Pressure Index form guide.
The Goal Pressure Index is presented by Sure, Official Partner of Chelsea FC, Everton FC and Southampton FC. Join the conversation on Twitter @Sure.