African All Stars
'Wilf is motivated against big teams' - Arsenal boss Arteta wary of Zaha's threat ahead of Crystal Palace trip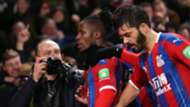 Arsenal manager Mikel Arteta is looking forward to seeing a motivated Wilfried Zaha when his side visit Crystal Palace.
Zaha was a threat to the Gunners' defence in their last outing back in October, winning a penalty that was converted by Luka Milivojevic as the teams settled for a share of the spoils at the Emirates Stadium.
Ahead of Saturday's Premier League fixture, Arteta singled out the qualities of Zaha, who was strongly linked with a move to North London back in the summer, for praise.
"I always see Wilf motivated against the big teams and ready to make an impact. He doesn't need that [further motivation], " he told the club website.
"He has attention from the media and everyone realises how good he's been. I don't expect anything different against us.
"I always find him dangerous, the last few times we played. When he played against Arsenal recently, always a threat."
Arsenal are 10th in the Premier League table, four points off an European spot. They are will be looking to build on their fine start to 2020 against the ninth-placed Eagles.