UEFA Champions League
Wiko Game Changer: Lethal Cristiano Ronaldo puts Juventus to the sword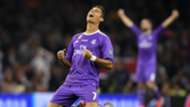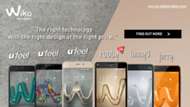 All season long in the Champions League, it was the trio of Gianluigi Buffon, Leonardo Bonucci and Giorgio Chiellini that has led Juventus from the back, making them one of the strongest defenses in world football today. Before the final, the Turin club had only let in three goals in their 11 matches.
But in the final, against Real Madrid in Cardiff, it took one Cristiano Ronaldo to break down that solid structure that guarded the Juventus goal.
In the 64th minute, diminutive midfielder Luka Modric made his way down the right, and swung the ball into the box at the near post, after barely keeping it in play. The Juventus trio were present in the box, ready to make another clearance – just as they had been doing through most of the night. Only, Ronaldo got there quicker.
Chiellini unusually found himself rooted to the spot, waiting for Buffon to come out and parry or Bonucci to clear. The latter, who was marking Ronaldo was slow off the blocks, and the Portugal skipper came steaming in with pace, but with the softest of touches, neatly guided the ball past the stretching Buffon to net Real's third in the 4-1 win. It was the goal that firmly sealed the match in the Galacticos' favour, making them the first side to successfully defend their Champions League crown. It was also a record 12th win – La Duodecima.
That strike however, was Ronaldo's second of the night. The first came in the 20th minute as the opener for the match.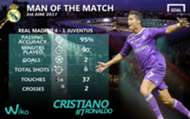 Juventus started well, pumping up the pressure on the defending champions. But Real managed to conjure up a counter attack, with Ronaldo leading the way. Surging down the field, he passed out wide to the overlapping Dani Carvajal. The right-back rolled the ball back to the 32-year-old who had made himself some space just inside the box.
The first-time effort was a side-footed snapshot. It was Real's first attempt all night. Though on target, it got a slight deflection off Bonucci and found the bottom corner beyond the diving Buffon and gave Real the lead.
That goal made Ronaldo the only player to score in three Champions League finals (he did so in 2008 and 2014 previously). 
It was yet another match-winning performance from the Portuguese skipper. Club records were broken, but for their number 7, there were also some personal landmarks. Ronaldo brace took him to 600 goals for both club and country in the 855 matches he's played. At Real, he's scored 406 in 392, averaging 1.04 goals per match.
It's a stat that underpins his value and has helped Real reach the pinnacle of greatness yet again.