NPFL
Wikki Tourists will recover from Caf Confederation Cup exit, says Onyelonu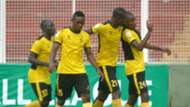 Wikki Tourists' Chinedu Onyelonu believes his side will improve in the Nigeria Professional Football League this season after crashing out of the 2017 Caf Confederation Cup.
The Bauchi based side defeated Republic of Sierra Leone Armed Forces FC 1-0 at the Abubakar Tafawa Balewa Stadium but were dumped out 2-1 on aggregate.
The former Ikorodu United player insists they gave their all but were unlucky not to advance, rueing their missed chances.
"With this situation, we have to concentrate on the league and do better than we are doing now,'' Onyelonu told Goal.
"We will give our best to ensure the team challenge for glory this season.
"We played a very good game against RSLFA FC but you cannot understatement any team on the continental stage.
"We had many chances which we didn't convert.  We had two penalties and converted one.''
"I believe in all, God of soccer wasn't on our side if not we ought to have won by 4-0,'' he continued.
"The state government stimulated the players financially and otherwise. We are very sorry and must commend their good support.
"And it is very unfair of us that we couldn't qualify beyond the first round of the competition.
"I know the state government may not be happy with our performance at the moment but a father will never hate his child when he fails even when he knows what talent he has."