NPFL
Wikki Tourists clash won't be a tea party, says Abia Warriors' Ngwaogu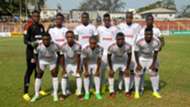 Abia Warriors chief coach Patrick Ngwaogu has urged his side to confront Wikki Tourists with all seriousness, insisting the clash won't be a tea party.
The Uchendu Warriors will resume the second stanza against Bala Nikyu's men and the gaffer insists their dream is to consolidate on their first round showing.
"We are putting finishing touches on our Sunday match against Wikki Tourists," Ngwaogu told Goal.
"We are aiming at consolidating our performance in the first stanza and strive to recover some of the points we lost at home.
"If we are able to do that and ensure that we don't drop any point at home again, we would home and dry at the end of the season.
"We must always give kudos to the Chairman of the club and his management team for believing in us, and we are more determined not to let them down.
"I have said severally that Abia Warriors is an ambitious team. And our ambition this season is to finish among the first three, and God's willing, we would achieve that.''
"Though it's not going to be easy, but we are all determined towards that. If you look at the log, you will find out that Wikki Tourists is not comfortable at all, and base on that, they are going to approach all their matches in this second stanza with all seriousness, he continued.
"With the new changes that just occurred in the team, the boys are fully aware that that the Bauchi game will not be a tea party. So, we would advise them to approach the match with all seriousness and hope for the best.
"Actually we did not sign new players. What we did was to regularize those that have been with us right from inception, but due to one hitch or the other, their registration could not be concluded before the end of the window. We have done that now, and believing that they would be a good addition to us."