Liverpool
Wijnaldum planning to make history during long Liverpool stay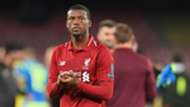 Georginio Wijnaldum is hoping to spend "a long time" at Liverpool, with it his intention to make history before contemplating a move elsewhere.
The Dutch midfielder moved to Anfield in the summer of 2016 and penned a five-year contract.
He has faced fierce competition for places throughout his time on Merseyside, with Jurgen Klopp having moved to further bolster his ranks with the signings of Fabinho and Naby Keita over the summer.
Wijnaldum has done enough to earn himself over 100 appearances for the club and has impressed in the current campaign after being tipped to slip down the pecking order.
The 27-year-old intends to make the most of every outing he gets, allowing him to play himself into contention for a new contract and a shot at major silverware.
The Netherlands international told the PFA: "I hope to stay here for a long time and help to make the history of this club even bigger.
"We've qualified for the Champions League two seasons in a row and reached a major final but we want more. Everyone talks about winning something and we have to make sure we take that next step. I hope we can do it. We have the confidence that we can do it.
"You want to be able to look back and feel you were part of Liverpool's great history – win something here and they will always remember you.
"I want to be remembered as a Liverpool player who was part of something special."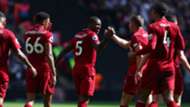 Wijnaldum has had to alter his game since linking up with Liverpool, with Klopp asking him to fill a deeper role than he had been accustomed to, but he has embraced that challenge and now considers himself to be a "more all-round midfielder".
He added: "I've certainly grown as a player during my time here. The expectations are so high at such a big club and that drives you on to become better.
"Before I signed for Liverpool I was playing for Newcastle as a No. 10 – basically, I was always attacking, I didn't have to do much defensive work, I didn't play as the No. 6 or the No. 8.
"Learning to play different roles has made me a more all-round midfielder. With the calibre of players here and the technical staff, this is a great environment to learn.
"Walking out at Anfield is an unbelievable experience and I feel very fortunate. I try to enjoy every minute of it. We've come a long way as a club and I've been happy to contribute to that."