Premier League
Wijnaldum nutmegs unsuspecting pedestrians!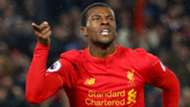 Soufiane Touzani has become something of an internet sensation with his brilliant freestyle skills, and now he's teamed up with Georginio Wijnaldum to prank some unsuspecting Liverpool shoppers!
The attacking midfielder, who has scored five goals and provided six assists thus far this season, donned a mask and grabbed a ball to go in search of some nutmegs!
Wijnaldum shows off his silky footwork before eventually unmasking, and posing for selfies with fans.
Watch the video below - from TouzaniTV - and, remember, always be on the lookout for a panna!