PSG
PSG are right to reject Man Utd and Barcelona interest in Marquinhos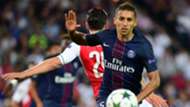 ---
COMMENT
---
When Paris Saint-Germain swooped to sign Marquinhos from Roma for €30 million in 2014, they were aware they were acquiring one of the most promising centre-backs in the game. 
Man Utd target Marquinhos move
Three years at the Parc des Princes have seen the Brazilian begin to realise his potential, flanked by Thiago Silva, who is perhaps the most stylish defender of the modern era. His compatriot's poise and reading of the game grants him a classy air, and 22-year-old Marquinhos is a defender built of the same mould.
David Luiz initially barred the way for him to become a regular in the starting XI, yet PSG's decision to sell the third of their Brazilian centre-backs to Chelsea last summer was a big vote of confidence in the youngster.
A mammoth bid from Barcelona arrived but was rejected out of hand, and if there are any similar approaches over the course of the summer transfer window – Manchester United have been linked with one, for example – PSG are ready to rebuff those, too.
It is easy to see why they are so keen to keep a firm grasp of a player, who, along with Marco Verratti and Adrien Rabiot they see as part of an indispensable spine for the future.
The trio all hold world-class potential and if PSG are to maintain their hopes of becoming European champions, it is essential that they can retain all three. 
Marquinhos, though, is a particularly precious gem.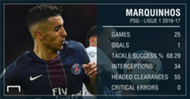 Centre-backs in the modern era tend to be of the brutish variety; strong and athletic players who specialise in dramatic last-ditch tackles to disguise a lack of tactical nous. The very best, though, are capable of reading the game and nullifying danger before others have even sensed it exists, a talent not easily developed and often honed over years of experience. Marquinhos is one of those players, and for that reason he cannot be allowed to depart.
Certainly, he is still in the developmental stage of his career, as the capitulation against Barcelona in the Champions League proved, yet his potential was clear three weeks earlier, when, alongside fellow youngster Presnel Kimpembe, he snuffed out the threat of Lionel Messi, Luis Suarez and Neymar.
Performances as strong as that have been the norm rather than the exception for a defender already capable of starring at any club where the focus is on technical, ball-retaining players.
'Rooney has reached the end at Manchester United'
And the player does not want to push for a departure either. 
"It's not only up to me but my contract here runs until 2019 and from my point of view everything is pretty clear, I want to stay at PSG," he explained in March.
Now there is just the thorny issue of agreeing a new contract. His father, Marcos Barros, told Goal: "It's not just a matter of money. It's a matter of how he can become one of the best players in the team. PSG need to show him that he is one of the most important player in the team."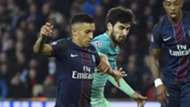 Last summer, the context was awkward, with the player fuelling speculation of a potential exit by rejecting a new contract. 
Previous head coach Laurent Blanc had sent out a bad signal by preferring David Luiz and Serge Aurier to him in the fatal 2-2 Champions League draw with Manchester City. Compounding matters, Gregory van der Wiel was sent on from the bench ahead of him – an episode that left the player "humiliated", according to agent Giuliano Bertolucci.
"Was Marquinhos disappointed? It should be PSG who are disappointed after such a result," he fumed.
But PSG, who were eliminated from Europe largely due to Blanc's bizarre tactical decisions during that tie, were disappointed and the coach was sacked in the summer.
Under Unai Emery, Marquinhos has been a virtual ever present, his status as a key player in the squad assured.
"He is a top footballer. In addition to his technical qualities, he listens to instructions," the Spaniard said in November, highlighting his respect of the player. "He is very concentrated, does what you ask of him."
Serene both on the field and in his private life, an agreement over a new deal is surely over a matter of time. 
In turning down huge offers from Barca and Manchester United, PSG have sent a strong message to their rivals and to the player that he is a key player both now and in the future. Now all they need is the documentation to secure it.