Coronavirus
Liverpool trophy parade: When & where would it take place & how will coronavirus impact it?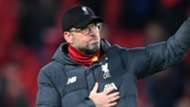 Liverpool's astonishing form this season has blown the Premier League away, but potential title celebrations could be delayed due to the ongoing coronavirus outbreak.
European football has been severely disrupted as authorities attempt to prevent further spread of Covid-19, with the Premier League – along with the Bundesliga, La Liga, Serie A, and Ligue 1 – forced to be suspended after the virus had already infiltrated football clubs.
Liverpool remain just two victories away from clinching their first Premier League title, and should the top flight resume on April 3, the Reds could be crowned English champions should they defeat Manchester City on April 5.
But the deadly nature of Covid-19 means that there is no certainty that the Premier League will even resume on April 3, and there have been concerns that the league as a whole could even be voided .
So if Liverpool were to be crowned champions, when would their parade take place – and could it even be cancelled?
When would Liverpool's trophy parade take place?
Liverpool's Premier League trophy parade was originally set for May 18, the day after their final game of the season against Newcastle.
Of course, since multiple top flight games have already been postponed, this would ostensibly shift the Premier League calendar back a few weeks.
Title parades are traditionally held one day after the final game of the season.
This means that even if the league resumes on April 3 and Liverpool clinch their final two victories, the original pencilled-in date of May 18 would be delayed even further.
It would be safe to assume that whatever parade Liverpool were to hold, it would take place after a day after the rescheduled final matchday, whenever that may be.
There is concern that Euro 2020 will be cancelled and postponed to next summer in order to combat Covid-19. Doing so, however, could potentially allow domestic leagues to finish out their seasons in June and July.
Should this happen, the parade would then happen sometime in the summer and not in May as originally thought.
Could Liverpool cancel their trophy parade?
Of course, even if Liverpool managed to still win the league, they might feel that holding a parade – a very large public gathering of hundreds of thousands of people – might not be the best idea in the fight to prevent further transmission of Covid-19.
There is the hope that the coronavirus situation might improve in the coming months, with Liverpool fans obviously hopeful that June or July would be deemed a safe enough time to hold a parade.
But should the coronavirus outbreak in the UK continue to deteriorate at a continuously alarming speed, there might not even be a Premier League parade at all.
The best case scenario is that any parade would be held closer to the start of next season (if it that is still due to start on time) instead the back-end of this current campaign.
What would Liverpool's trophy parade route be?
Obviously, Liverpool have never held a Premier League trophy parade before, and such occasion would no doubt be a special one for supporters.
Reds fans have, however, been lucky enough to enjoy a Champions League trophy parade twice (in 2005 and in 2019). 
The 2019 Champions League trophy parade involved red buses taking the players and coaches (as well as the trophy!) across the entire city on June 2, a day after the victorious final in Madrid.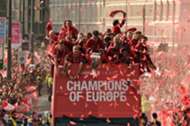 The parade began at 4pm BST in Liverpool, beginning at Allerton Maze and travelling northbound on Queens Drive towards the Fiveways roundabout and Rocket flyover – then trawling through Queens Drive, Mill Bank, West Derby Road, Islington, Leeds Street, the Strand and finishing at Blundell Street.
An estimated 750,000 Liverpool fans turned up to celebrate their first Champions League trophy in over a decade.
The 2019 trophy parade route might be used as a blueprint for a future potential Premier League trophy parade.